Radio Aire LIVE - Aire Radio LIVE + Radio Aire 2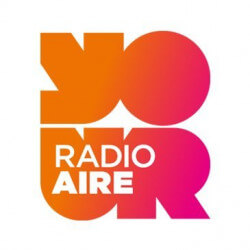 About Radio Aire
Radio Aire's broadcast has ended on 31st of August in 2020.

Listen online to the internet radio of Aire Radio live here, on UK Radio Live!
Radio Aire was launched in 1981, its station is operating from Burley in Leeds.
Radio Aire has 57.000 weekly listeners in the UK, and is in the ownership of Bauer Radio Ltd., member of the Planet Radio station fleet, and part of Bauer's Hits Radio Network.
Radio Aire's schedule has locally produced and networked parts. The networked programming is transmitted from the Hits Radio Network.
Radio Aire's local programmes supply West Yorkshire with locally relevant news, sports, traffic-travel and weather updates, and fill the day with joyful talk-shows alongside with a music playlist of the last 15 years popular music with greater emphasis on today's hits.
Radio Aire sets the vibe-trajectory of the mornings rising by its breakfast show with Caroline Verdon and Anthony John Arthur on weekdays from 6am to 10am.
On Sundays "The UK Chart Show" is broadcasted from 4pm to 7pm, which is Bauer's own, brand-new chart show led by Sarah-Jane Crawford, with the hottest 30 songs.

You can switch to Radio Aire 2, greatest hits oriented sister station of Radio Aire, below the player!

Radio Aire music genre: pop

Radio Aire availability: You can tune in your traditional analogue radio on 96.3 FM in West Yorkshire. Besides the analogue distribution, several digital solutions are optionable, we recommend the online radio stream.

DAB Digital Radio: Radio Aire (West Yorkshire)

Radio Aire 's slogan: "The Biggest Hits - The Biggest Throwbacks"
Do You see incomplete, outdated or incorrect information on our site? Do You think You know more about a radio? Help us, write to us on Facebook and in exchange we grant You advertisement free use of our site! :)
Contacts






















































More radios
Radio Aire comment box
This box is not read by the Radio's staff! So if You would like to ask for a song, or to send a word to the radio presenter, try the
Facebook Box
or
one of the contacts!
News about Radio Aire
Recommended Radios
The Biggest Hits, The Biggest Throwbacks
06:00 -
Caroline & Ant for Breakfast
The Biggest Hits and The Biggest Throwbacks in Leeds with Caroline & Ant.
10:00 -
The Radio Aire Throwback
The Radio Aire Throwback
The biggest hits, the biggest throwbacks
The biggest hits, the biggest throwbacks
The biggest hits, the biggest throwbacks
19:00 -
Scott Clarke - Radio Aire Weekend
The Biggest Hits The Biggest Throwbacks
23:00 -
Radio Aire Weekend
The Biggest Hits The Biggest Throwbacks