talkSPORT 2 LIVE - talkSPORT 2 Radio LIVE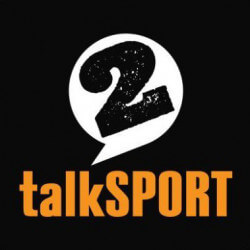 About talkSPORT 2
Listen online to the internet radio of talkSPORT 2 live here, on UK Radio Live!
talkSPORT 2 is the sister station of talkSPORT radio, launched in 2016 for expanding the broadcasting time to the increasing amount of broadcasting rights of the parent station. talkSPORT 2 is distributed only digitally and 489.000 weekly listeners follow it.
As a loyal adjutant of talkSPORT, talkSPORT 2 helps to cover concurrent sports events, and sustains the enthusiastic commitment in the mission of broadcasting, analyzing, and debating the sports' world.
You can tune to the other "talk" radios of Wireless, below the player, furthermore
talkSPORT
and
talkRADIO
are also included as individual stations here, on UKRadioLive.
The broadcast is not available on the traditional analogue radio way, but You can choose from several digital solutions to follow it, we recommend the online radio stream.
talkSPORT 2 's slogan: "Because Sport Never Stops"
Do You see incomplete, outdated or incorrect information on our site? Do You think You know more about a radio? Help us, write to us on Facebook and in exchange we grant You advertisement free use of our site! :)
Contacts






















































More radios
talkSPORT 2 comment box
This box is not read by the Radio's staff! So if You would like to ask for a song, or to send a word to the radio presenter, try the
Facebook Box
or
one of the contacts!
News about talkSPORT 2
Have You liked our Facebook page yet?
00:00 -
talkSPORT Exclusive
A talkSPORT exclusive documentary
00:30 -
The talkSPORT 2 Social - Racing from Newcastle
An in-depth look at the day's biggest sports stories plus live horse racing from Newcastle
05:00 -
Early Breakfast with Paul Coyte
Join Paul Coyte as he serves up all the biggest sports news on Early Breakfast
06:00 -
Sportsday with Paul Coyte
Your essential round-up of the morning's breaking sports stories.
09:00 -
talkSPORT Exclusive
A talkSPORT exclusive documentary
10:00 -
talkSPORT Exclusive
A talkSPORT exclusive documentary
11:00 -
talkSPORT Exclusive
A talkSPORT exclusive documentary
17:00 -
EFL Live - Blackburn v Swansea
Live commentary of the Championship match between Blackburn Rovers and Swansea City
20:00 -
Champions League Live - Juventus v Porto
Live commentary of the Champions League match between Juventus and Porto
22:00 -
talkSPORT Exclusive
A talkSPORT exclusive documentary