talkSPORT2 - talkSPORT2 LIVE - talk SPORT 2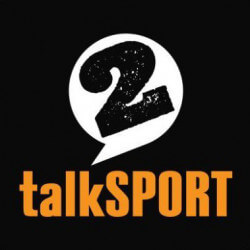 About talkSPORT 2
Contacts - Phone number, SMS, E-mail, Facebook etc.
talkSPORT 2 frequencies
The broadcast is not available on the traditional analogue radio way, but on the digital solutions like DAB Digital Radio, we recommend the online radio stream.






















































More radios
talkSPORT 2 comment box
This box is not read by the Radio's staff! So if You would like to ask for a song, or to send a word to the radio presenter, try the
Facebook box
or one of the
contacts
!
News about talkSPORT 2
Similar radio stations in other countries
00:00 -
My Sporting Life: Carl Froch
Carl Froch talks about his life and career in this archive recording
02:00 -
My Sporting Life: Frank Bruno
Frank Bruno talks about his life and career in this archive recording
04:00 -
My Sporting Life: Joe Calzaghe
Joe Calzahge talks about his life and career in this archive recording
06:00 -
My Sporting Life: Ricky Hatton
Ricky Hatton talks about his life and career in this archive recording
08:00 -
talkSPORT 2 Today - The Latest Sports News
The latest sports news and reaction and a look ahead to the day's action
09:00 -
GameDay: Premier League Preview
Sam Matterface looks ahead to all of the weekend's action in the Premier League
10:00 -
Bad Blood: Boxing's Most Fierce Rivalries
Spencer Oliver gives his favourite volatile build-ups and takes a look at when the rivalry between fighters is genuine or simply set up to boost interest
11:00 -
My Best XI: Shane Meadows
Jonny Owen and Mark Webster take a cultural look at the world of sport - as well as chat to Shane Meadows about his best XI
12:00 -
My Best XI: Jake Wood
Jonny Owen and Mark Webster take a cultural look at the world of sport - as well as chat to Jake Wood about his best XI
13:00 -
Racing Live: Racing from Lingfield
Lee McKenzie hosts live racing from Lingfield and takes a look at the day's biggest racing stories
15:00 -
The talkSPORT 2 Social
An in-depth look at the day's biggest sports stories
17:00 -
The Playlist - With 888 Sport
A look ahead to the Premier League action this weekend
18:00 -
GameDay: Premier League Preview
Sam Matterface looks ahead to all of the weekend's action in the Premier League
19:00 -
EFL GameDay Live: Burnley v Sunderland
Live commentary of the Championship match between Burnley and Sunderland
22:00 -
PGA TOUR Live: Valero Texas Open
Live coverage of The Valero Texas Open from The Oaks Course at TPC San Antonio