Heart Xmas - Heart Christmas Radio 2022 - Heart Christmas Radio Station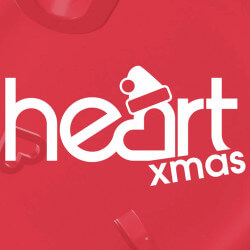 About Heart Xmas
Listen to the internet radio of Heart Xmas live, which is Heart FM's Christmas radio. In the previous years, Heart Extra was the sister station which changed its format during the festive season to celebrate Christmas, but since Extra's broadcast had been ended, the broadcaster decided to launch an individual radio to fulfill that mission, with only temporary broadcast at the start, but for years now, the radio station operates all year bringing the festive mood to its listeners by the best Christmas songs and instrumental Christmas music. Of course the most popular songs are not missing from the playlist since Wham!'s Last Christmas, Mariah Carey's All I Want For Christmas Is You, Chris Rea's Driving Home For Christmas and many more legendary Christmas songs build the joyful music repertoire. The Heart Christmas Radio in 2022 has started its festive countdown earlier than ever, starting 3 months before Christmas.
Do You see incomplete, outdated or incorrect information on our site? Do You think You know more about the radio? Help us, write to us on Facebook and in exchange we'll reward You with advertisement free use! :)
Contacts - Phone number, SMS, E-mail, Facebook etc.
Heart Xmas frequencies
The radio is not available on the traditional analogue way, but on DAB in the UK and worldwide by its online radio stream.
More radios
Heart Xmas comment box
This box is not read by the radio's staff! So if You would like to ask for a song, or to send a word to the radio presenter, try the
Facebook box
or one of the
contacts
!
News about Heart Xmas
Christmas comes early at Global as Heart Xmas launches nationally
As autumn begins Global has put Heart Xmas on the national Sound Digital DAB radio platform. The station is playing Christmas music 24/7 across the UK three months ahead of Christmas Day. Already heard this morning: Mariah Carey's 'All I Want for Christmas Is You', Wham!'s 'Last Christmas', Chris Rea's 'Driving Home For Christmas' and Band Aid's 'Do They Know It's Christmas?'...
More >>
radiotoday.co.uk - 23.09.2022
Heart Xmas launches early for Christmas 2020
Global has started its annual festive radio station Heart Xmas early this year. The service is available on lots of local digital radio multiplexes across the UK rather than the national mux D1 used previously. The switch-on comes on the same day British Summer Time ends and more than 60 days before the big day itself. This year sees a slight name change, dropping the "extra" tag used in previous years as Heart extra changed to Heart UK in March...
More >>
radiotoday.co.uk - 25.10.2020
Similar radio stations in other countries
Do You like this radio? Recommend it to your friends!

14:45
Paul McCartney - Wonderful Christmastime

14:41
Band Aid - Do They Know It`s Christmas

14:38
John Lennon / Yoko Ono - Happy Christmas (War Is Over)

14:34
Mariah Carey - All I Want For Christmas Is You

14:31
Jona Lewie - Stop The Cavalry

14:28
Mike Oldfield - In Dulci Jubilo

14:25
Coldplay - Christmas Lights

14:20
Boney M - Mary`s Boy Child

14:17
Michael Buble - White Christmas

14:14
Ronettes - Sleigh Ride
Get older playlist