Orignal 106 fm LIVE - Original Radio LIVE + Chart + Country + Gold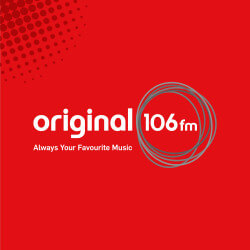 About Original 106
Listen online to the internet radio of Original 106 radio live here, on UK Radio Live!
Original 106 fm started its broadcasting in 2007. Its station operates from Aberdeen, and intended to be an organic part of Aberdeenshire with its locally generated programmes, local news, and a very diversified music playlist, which lines up the last 50 years popular music besides the never heard jewels of the music history.
Original FM is in the ownership of DC Thomson Media, and has 81.000 weekly listeners by its analogue and digital distributions in the UK.
More Scotland news, Aberdeen news, local travel-traffic and weather updates fill the daytime's news sections with less national and international news, and in nighttime, this proportion is reversed.
Original Radio ignites North East Scotland's mornings with "Claire & David's BIG Breakfast" led by Claire Stevenson and David Lewis on weekdays from 6am to 10am.

Below the player You can select Original 106's sister stations, so Original 106 Chart, Original 106 Country and Original 106 Gold are available!

Original 106 music genres: pop, rock

Original 106 slogan: "Local Radio for the North East of Scotland"

Original 106 availability: You can tune in your traditional radio on 106.8 FM and 106.3 FM in Aberdeenshire, and you can follow Original 106 by its online distributions. We recommend the online radio stream.
Do You see incomplete, outdated or incorrect information on our site? Do You think You know more about a radio? Help us, write to us on Facebook and in exchange we grant You advertisement free use of our site! :)
Contacts






















































More radios
Original 106 comment box
This box is not read by the Radio's staff! So if You would like to ask for a song, or to send a word to the radio presenter, try the
Facebook Box
or
one of the contacts!
News about Original 106
Original 106 opens new studios with a Royal visit
It's been a busy week at Original 106 this week with new studios, the start of DAB broadcasts and a Royal visit. The Aberdeen station, which was recently bought by publishers DC Thomson, commenced broadcasting from its brand new studios and Marischal Square Aberdeen on Tuesday with Camilla, the Duchess Of Rothesay paying a visit to the new studios. Original 106 went live at 1.06pm, having relocated moving from its previous building in the south of Aberdeen city.
More >>
radiotoday.co.uk - 26.06.2019
DC Thomson buys Original 106 and Kingdom FM
The owner of Dundee's Wave 102 has bought Abderdeen station Original 106 and Fife's Kingdom FM. DC Thomson Media acquired Wave in 2017 and is the owner of newspapers including The Press and Journal and The Courier. Mike Watson, Chief Executive Officer for DC Thomson Media, said: "These acquisitions firmly position us as the largest Scottish-owned radio group. We're excited to have brought these two great stations in to our radio portfolio"...
More >>
radiotoday.co.uk - 21.03.2019
Have You liked our Facebook page yet?
Recommended Radios


09:16
Jackie Wilson - Higher And Higher

09:10
Elton John - I'm Still Standing

09:06
Destiny's Child - Independent Women (Part 1)


08:50
Spiller And Sophie Ellis Bextor - Groovejet


08:36
Miley Cyrus - Angels Like You

08:32
Genesis - Invisible Touch

08:27
Cardigans - Lovefool
00:00 -
Original Overnight
A fine mix of songs, back to back all night long. It's an overnight sensation!
04:00 -
Original 106 Early Breakfast
You know the phrase the early bird gets the worm? Well they also get the best non stop tunes too!
06:00 -
Claire and Craig's BIG Breakfast
The BEST way to wake up in North East Scotland with Claire and Craig's BIG Breakfast!
Live from Aberdeen with All The Music You Love at work plus The Top 10 At 10 and the big "Number Ones At One" collection.
14:00 -
Original 106 MAXIMUM MUSIC
A non-stop hour of the best music.
Music and banter, plus chances to win on The Original Lift Home
19:00 -
Gemma McLean - The Evening Bit
All The Music You Love on Aberdeen & NE Scotland's "evening bit"
End your day by relaxing in the Lounge.