Capital XTRA LIVE - Capital XTRA Radio LIVE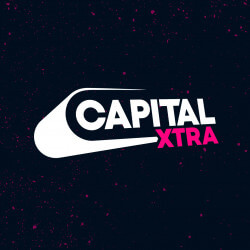 Capital XTRA Reloaded - 128 Kbps
About Capital XTRA
Listen online to the internet radio of Capital XTRA live here, on UK Radio Live!
Capital XTRA is the genre specialized sister station of Capital FM. With almost 1.7 million weekly listeners across the UK, Capital XTRA has a decisive bite in the Capital Radio Brand, and so has a significant importance in positioning the Capital Radio Brand's popularity to the second place in the commercial radio segment in the UK. Capital XTRA is in the ownership of Global Media & Entertainment Ltd.
Capital XTRA is the successor of the Choice FM since its rebranding in 2013. So Capital XTRA continues the fundamentals of Choice FM, furthermore explores the future of the urban dance music style, thereby modernizes the broadcasting of rhythmic contemporary, especially black music.
Capital XTRA set the rhythms of the mornings with "Capital XTRA Breakfast with Yinka & Shayna Marie" on weekdays from 6:30am to 10am.
Capital's other sister station
Capital XTRA Reloaded
is available as an individual station here, on UKRadioLive, and You can also select it below the player!
Capital XTRA music genres: hip-hop, RnB, urban, dance
Capital XTRA availability: Capital XTRA is available on the traditional analogue radio way on 96.9 FM and 107.1 FM in London, and across the UK by the digital solutions, we recommend the online radio stream.
DAB Digital Radio: Capital XTRA
DigitalTV:
Freesat: Channel 720
Sky: Channel 0114
Virgin: 959
Capital XTRA 's slogan: "Dance. Urban. UK."
Do You see incomplete, outdated or incorrect information on our site? Do You think You know more about a radio? Help us, write to us on Facebook and in exchange we grant You advertisement free use of our site! :)
Contacts






















































More radios
Capital XTRA comment box
This box is not read by the Radio's staff! So if You would like to ask for a song, or to send a word to the radio presenter, try the
Facebook Box
or
one of the contacts!
News about Capital XTRA
Do You like this radio? Recommend it to your friends!
Recommended Radios
01:00 -
Non-Stop Capital XTRA
We're dropping the freshest Hip-Hop & RnB anthems alongside Reloaded throwbacks non-stop, all night.
Leah's keeping you company with Hip-Hop & RnB anthems. Get involved @CapitalXTRA
It's the weekend! Will has Hip-Hop & RnB bangers. Get involved @capitalxtra
Remel's playing the biggest Hip-Hop & RnB tracks. Get involved @CapitalXTRA
16:00 -
Homegrown with Robert Bruce
Robert Bruce loads in 3 hours of UK tunes to fire up Saturday night. Get involved @CapitalXTRA
Saturday night will never be the same! The Big Dawg is in the building with the biggest hip-hop anthems. Get involved @CapitalXTRA
23:00 -
Afrobeats with Afro B
It's Saturday night, and Afro B has all the hottest Afrobeats tunes in the mix! Get involved @CapitalXTRA