Capital XTRA - Capital XTRA LIVE - Capital XTRA Radio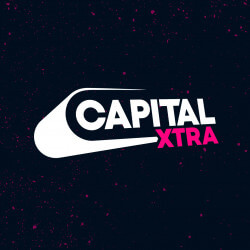 Capital XTRA Reloaded - 48 Kbps
About Capital XTRA
Contacts - Phone number, SMS, E-mail, Facebook etc.
Central London

-

96.9

FM
North London

-

107.1

FM
South London

-

96.9

FM
The broadcast is available on the traditional analogue radio way in London, and across the UK by the digital solutions like DAB Digital Radio and DigitalTV, we recommend the online radio stream.
DigitalTV: Freesat - Channel 720, Sky - Channel 0114, Virgin - Channel 959
Capital XTRA Frequency map
More radios
Capital XTRA comment box
This box is not read by the radio's staff! So, if you would like to ask for a song, or send a word to the radio presenter, try one of the
contacts
!
News about Capital XTRA

13:32
The Weeknd feat. Playboi Carti & Madonna - Popular

13:28
Missy Elliott feat. Ciara & Fatman Scoop - Lose Control

13:25
Brandy & Monica - The Boy Is Mine

13:21
Central Cee x Dave - Sprinter


13:12
Natalie La Rose feat. Jeremih - Somebody

13:09
Sunshine Anderson - Heard It All Before

13:06
Drake Feat. SZA - Slime You Out

13:03
Bugzy Malone & Teedee - Out Of Nowhere

13:00
Doja Cat - Paint The Town Red
Get older playlist
Jojo's got you covered with the hottest Hip-Hop and RnB tunes! Get involved @CapitalXTRA.
06:30 -
Robert Bruce & Shayna Marie
Robert Bruce and Shayna Marie wake you up with the biggest tunes! Get involved @CapitalXTRA
Omah brings you the biggest Hip-Hop and RnB bangers to get you through your day! Get involved @CapitalXTRA
Toni is bringing you non stop Hip Hop & RnB to get you through your weekday!
Yasser brings you the biggest Hip-Hop & RnB. Get in touch @CapitalXTRA
Kamilla's playing the biggest Hip-Hop & RnB tracks! Get involved @CapitalXTRA
Leah brings you the biggest Hip-Hop & RnB. Get in touch @CapitalXTRA