Kick Covid Country Radio - KCC Radio Live - KCC Ireland
If the online broadcast of Kick Covid Country Radio doesn't start, or lags,
please contact us on the
Contact page
, or try to find the error on the
Troubleshooting page
.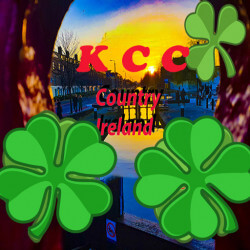 About Kick Covid Country Radio
Listen to the online radio of Kick Covid Country Radio (KCC Ireland) live, established on April 1, 2020, with the aim of providing a diverse mix of country music, including classics, crossover, and rock, performed by both Irish and American artists. Its inception was a response to the initial Covid-19 lockdown, designed to offer support to its listeners. KCC Ireland actively promotes new artists and emerging talents within the country music genre, showcasing their music. Additionally, they extend their support to live performances in Ireland and abroad. While their primary target audience is the 35+ age group, listeners of all ages can enjoy their varied playlist filled with great music.

Kick Covid Country Radio slogan: "We Let The Music Talk"
Do you see incomplete, outdated or incorrect information on our site? Do you think You know more about the radio? Help us, write to us on Facebook and in exchange we'll reward you with advertisement free use! :)
Contacts - Phone number, SMS, E-mail, Facebook etc.
More radios
Kick Covid Country Radio comment box
This box is not read by the radio's staff! So, if you would like to ask for a song, or send a word to the radio presenter, try one of the
contacts
!
Similar radio stations in other countries

11:43
Derek Ryan - The Kickham Inn

11:39
The BossHoss - Run Run Run (feat. Kitty, Daisy & Lewis)

11:36
Ciarán Rosney - Remember Who You Are

11:33
Gabe Lee - Even Jesus Got the Blues

11:30
Bobby Bare - When I Get Home

11:27
Petric - Single Problem (feat. Christie Lamb)

11:25
Garth Brooks - Great Balls of Fire

11:23
Nanci Griffith - Outbound Plane

11:19
Chapel Hart - Jesus & Alcohol

11:18
- KCC Radio Ire Mary
Get older playlist
00:00 -
Lunch With Lou Repeat
A Lively Mix of New Classic and Crossover Country. Requests and Dedications
A Lively mix of New Classic And Crossover Country
20:00 -
Tom Flannery Direct from Chicago
Classic easy listening country to let you relax with a glass before bedtime.