Heart 80s - Heart 80s Radio - Heart 80s FM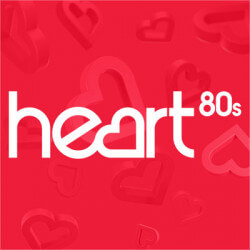 About Heart 80s
Listen to the internet radio of Heart 80s live, home of 80s music, Heart's digitally distributed sister station, with specialized musical selection. Heart 80s Radio is in the ownership of Global Media & Entertainment Ltd.
The radio's playlist does not select only from the 80's, but from the late 70's too. Because there were many songs in the late 70's which became popular hits then, and kept their popularity also in the 80's, so essentially affected the 80s musical era. Thus the station broadcasts not just the 80's songs, but the extended whole life-feeling what permeated the eighties' musical world.
The 80's in the musical world was the step, when the use of synthesisers became common, and thus the effects, and earlier unimaginable sounds and tunes became inseparable parts of the music. Digital solutions had revolutionized the music industry, and gave more freedom to the musicians who could express their artistic passion more freely.
The broadcaster offers morning shows from Monday to Saturday with Neil 'Roberto' Williams on weekdays between 6am and 10am, and on Saturday from 8am to 12pm.

Heart 80s 's slogan: "Non-Stop 80s Feel Good"
Do You see incomplete, outdated or incorrect information on our site? Do You think You know more about a radio? Help us, write to us on Facebook and in exchange we grant You advertisement free use of our site! :)
Contacts
Heart 80s frequencies
The broadcast is not available on the traditional analogue radio way, but distributed nationally on the digital solutions like DAB Digital Radio and on Sky - Channel 0112, we recommend the online radio stream.
















































Afro Diaspora Radio Online






More radios
Heart 80s comment box
This box is not read by the Radio's staff! So if You would like to ask for a song, or to send a word to the radio presenter, try the
Facebook box
or one of the
contacts!
News about Heart 80s
Similar radio stations in other countries
Do You like this radio? Recommend it to your friends!

19:46
Wham! - Young Guns (Go For It!)

19:41
Pointer Sisters - Automatic

19:39
Patrice Rushen - Forget Me Nots

19:33
Yazoo / Alison Moyet - Don`t Go

19:29
Earth Wind & Fire - Let`s Groove

19:25
Gloria Estefan - Rhythm Is Gonna Get You

19:22
Bobby Brown - My Prerogative

19:16
Dead Or Alive - You Spin Me Round

19:11
Communards - Never Can Say Goodbye

19:08
Madonna - Dress You Up
Get older songs
The best feel good 80s songs through the night.
06:00 -
Heart 80s Breakfast with Roberto
Roberto wakes up the UK! He'll keep you up to date with the latest news and travel and plays the best 80s feel good songs to start your day.
Nothing but the best feel good 80s songs throughout your day.
13:00 -
Heart 80s Number Ones at One
Three huge number one hits from our favourite decade - at 1pm!
Nothing but the best feel good 80s songs throughout your day.
16:00 -
Heart 80s Drivetime
Get yourself home with back to back feel good 80s songs!
18:00 -
Heart 80s Dance Classics
Two hours of big 80s floor fillers to start your evening!
A whole load of huge 80s classics back to back, what a great way to end your day!