Heart 80s LIVE - Heart 80s Radio LIVE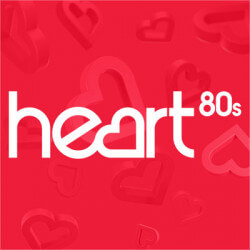 About Heart 80s
Listen online to the internet radio of Heart 80s, home of 80s music here, on UK Radio Live!
Heart 80s is Heart's digitally distributed sister station, with specialized musical selection. With above 1.2 million weekly listeners across the UK, Heart 80s has an important role in building up the Heart Brand to UK's most popular radio brand in the commercial segment. The station is in the ownership of Global Media & Entertainment Ltd.
The radio's playlist does not select only from the 80's, but from the late 70's too. Because there were many songs in the late 70's what became popular hits then, and kept their popularity also in the 80's, so essentially affected the 80s musical era. Thus the station broadcasts not just the 80's songs, but the extended whole life-feeling what permeated the 80's musical world.
The 80's in the musical world was the step, when the use of synthesisers became common, and thus the effects, and earlier unimaginable sounds and tunes became inseparable parts of the music. Digital solutions had revolutionized the music industry, and gave more freedom to the musicians who could express their artistic passion more freely.
The broadcaster offers morning shows from Monday to Saturday with Neil 'Roberto' Williams on weekdays between 6am and 10am, and on Saturday from 8am to 12pm.
You can tune to Heart 80s' parent station Heart FM, and to its sister stations
Heart 90s
,
Heart 80s
, Heart 70s, and
Heart Dance
below the player. Here Heart FM's London stream is available only, but
Heart FM
is included as individual radio station with all of its local and national streams here, on UKRadioLive.
Music genre: pop
The broadcast is not available on the traditional analogue radio way, but distributed nationally on the digital solutions, we recommend the online radio stream.
Heart 80s 's slogan: "Non-Stop 80s Feel Good"
Do You see incomplete, outdated or incorrect information on our site? Do You think You know more about a radio? Help us, write to us on Facebook and in exchange we grant You advertisement free use of our site! :)
Contacts






















































More radios
Heart 80s comment box
This box is not read by the Radio's staff! So if You would like to ask for a song, or to send a word to the radio presenter, try the
Facebook Box
or
one of the contacts!
News about Heart 80s
Recommended Radios
Nothing but the best feel good 80s songs throughout your day.
Start your day with nothing but huge feel good 80s hits non-stop.
08:00 -
Saturday Morning with Roberto
Roberto sets you up for your Saturday! Only classic 80s feel good songs throughout your morning.
Start getting ready for your Saturday night with nothing but huge feel good 80s hits non-stop.
Massive party classics from the biggest party decade! The place to be on your Saturday night.