kmfm LIVE - kmfm Radio LIVE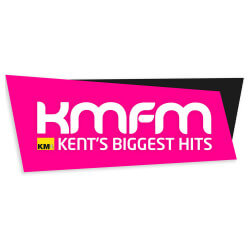 Canterbury DAB - 128 Kbps
About kmfm
Listen online to the internet radio of kmfm live here, on UK Radio Live!
kmfm radio is in the ownership of KM Media Group Ltd., comprised of seven analogue radio stations, located in Kent, and working for the people of Kent.
193.000 weekly listeners follow kmfm on its analogue and digital distributions in the UK.
kmfm's playlist fills the air with the 90s, 00s, and the present's best pop music, and besides music, talk shows, phone-ins make the programme structure's life affirming spectrum more refreshing. On weekdays, kmfm's "Breakfast with Garry and Laura" tunes up the morning listeners from 6am to 10am.
kmfm news bulletins bring local news for the people of Kent, and the national news, travel-traffic info, weather updates are also the parts of the hourly-half hourly rotating info packages.

kmfm music genre: pop

kmfm availability: You can tune in to kmfm on the the traditional analogue way - For the detailed FM allocation, check the Frequency section below, and the Frequency Map - kmfm is also available on the digital platforms, we recommend the online radio stream.

DAB Digital Radio: kmfm (Kent)

kmfm 's slogan: "Kent's Biggest Hits"
Contacts
Ashford

-

107.6

FM
Canterbury

-

106.0

FM
Folkestone & Dover

-

96.4

FM

-

106.8

FM
Maidstone

-

105.6

FM
Medway

-

100.4

FM

-

107.9

FM
Thanet

-

107.2

FM
West Kent

-

96.2

FM

-

101.6

FM
kmfm Frequency map






















































kmfm comment box
This box is not read by the Radio's staff! So if You would like to ask for a song, or to send a word to the radio presenter, try the
Facebook Box
or
one of the contacts!
News about kmfm
Claire Lawson joins kmfm weekend schedule
Former Heart Kent weekend presenter Claire Lawson is joining kmfm to host two weekend shows. Claire was on Heart for over a decade but recently left due to the introduction of weekend and breakfast networking. He new show will air Saturday 3pm – 7pm and Sunday 12pm – 4pm. Claire said "Ridiculously excited to be joining the presenter line up at kmfm on the 31st August!! Literally can't wait to chat to Kent again! So missed being on the radio and I really hope you'll all make the switch to Kent's Radio Station!"
More >>
radiotoday.co.uk - 19.08.2019
RAJAR Q3 2018: Regional and local radio round-up
Manchester is once again our focus on the local radio round-up, where the station previously known as Key 103 has lost more listeners. Hits Radio (Manchester) is reporting 325,000 weekly reach, compared with 374,000 last quarter. This is half the amount of listeners it had four years ago. Newly rebranded Key Radio (previously Key 2) has 53,000 listeners compared with 81,000 three months ago. Hits Radio's Market Share has dropped from 5.2% to 3.9% and hours are down by 561,000 in three months.
More >>
radiotoday.co.uk - 25.10.2018
Have You liked our Facebook page yet?
Recommended Radios