Q Radio LIVE - Q LIVE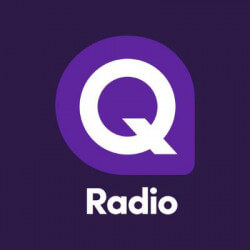 Greater Belfast - 128 Kbps
Tyrone&Fermanagh - 128 Kbps
About Q Radio
Listen online to the internet radio of Q Radio live here, on UK Radio Live!
Q Radio network is the rebranded CityBeat radio network of Northern Ireland, comprised of 7 local radio stations. Today it has 299.000 weekly listeners by its analogue and digital distribution, and is in the ownership of Northern Media Group.
Q Radio is one of Northern Ireland's favorite radio stations, with hot pop music diversified with the bests of the 80s', 90s', and 00s' best pop. The wide-spectrum content of Q Radio news brings local, national as well as world stories, and also the sport news segment has even local and international news. By the several local stations, Q Radio offers locally relevant travel-traffic and weather information, besides the entertainment news.
On weekdays the "Q Breakfast with Cate Conway" from 6am to 10am cheers up the listeners, and later, throughout the day, good-mooded shows continue to keep up the happy, dynamic audio experience.

The default set here is the Belfast station of Q Radio, but You can choose each of Q Radio's 7 stations below the player.

Q Radio music genre: pop

Q Radio availability: You can tune in to Q Radio with your traditional analogue radio, for the detailed FM allocation check the Frequencies section below and the Frequency Map! Q Radio can be followed by the digital solutions, we recommend the online radio stream.

DAB Digital Radio: Q Radio

Q Radio 's slogan: "Better Music"
Do You see incomplete, outdated or incorrect information on our site? Do You think You know more about a radio? Help us, write to us on Facebook and in exchange we grant You advertisement free use of our site! :)
Contacts
Ballycastle

-

97.6

FM
Bangor

-

102.5

FM
Carrickfergus

-

102.5

FM
Dungannon

-

107.2

FM
Einskillen

-

102.1

FM
Greater Belfast

-

96.7

FM
Kilkeel

-

101.1

FM
Larne

-

107.6

FM
Maghera

-

106.3

FM
Mid Antrim

-

107.0

FM
Mid Ulster

-

106.0

FM
Newcastle

-

101.1

FM
Newry & Mourne

-

100.5

FM
North Coast

-

97.2

FM
North West

-

102.9

FM
Tyrone & Fermanagh

-

101.2

FM
Q Radio Frequency map






















































More radios
Q Radio comment box
This box is not read by the Radio's staff! So if You would like to ask for a song, or to send a word to the radio presenter, try the
Facebook Box
or
one of the contacts!
News about Q Radio
Have You liked our Facebook page yet?
Recommended Radios
01:00 -
Q Radio Weekend Party with Errol
03:00 -
Q Radio Nighttime with Steve
07:00 -
Q Radio Weekend Breakfast with Sean
We can guarantee to wake you up every Sunday morning! Bringing you the latest showbiz, traffic updates and news reports.
10:00 -
Q Radio Weekend Mid-Morning with Ibe
Chill out with Ibe Sesay on Sunday mornings from 10am with easy-going chat & chilled out tunes. Get in touch via WhatsApp on 07702687001
14:00 -
Q Radio Weekend Afternoon with Yazz
Q Radio will make sure your weekend continues with great music & the latest celebrity gossip!
18:00 -
Q Radio Weekend Wind Down with Gareth
Join Gareth to wind down and get ready for a new week! Get in touch via WhatsApp on 07702687001
22:00 -
Q Radio Alternative with Olga
The Q' with Olga Kaye. Showcasing home grown talent from artists like The Coronas, 2 Door Cinema Club, Divine Comedy, The Cranberries mixed with brand new songs to watch out for along with artist interviews.Get involved at olga.kaye@goqradio.com