Radio X - Radio X LIVE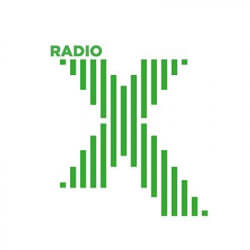 About Radio X
Listen online to the internet radio of Radio X live here, on UK Radio Live!
Radio X has above 1.6 million weekly listeners in the UK by two analogue radio station, in London and Manchester, and by its digitally distributed broadcast. Radio X is in the ownership of Global Media & Entertainment Ltd.
Radio X is the former Xfm's successor since its 2015 rebrand. So the primary target audience is the alternative music seeker listeners, who want to disengage from the monotonous mainstream flooded general entertainment industry. Radio X is an excellent choice for those who search unique experience in listening to uncommonly heard treasures from the musically valuable music.
Radio X's morning programme is "The Chris Moyles Show" which brings alternative sounds for breakfast from Monday to Friday between 6:30am and 10am, and on Saturday between 8am and 11am.

You can select the London (Server 1), Manchester, and UK online radio streams of RadioX below the player.

Radio X music genres: rock, alternative rock, indie rock, electronica

Radio X availability: You can tune in to Radio X on the traditional analogue radio way, for the detailed FM allocation check the Frequencies section below, and the Frequency Map. By the digital solutions, Radio X is available across the whole UK. We recommend the online radio stream.

DAB Digital Radio: Radio X

DigitalTV:
Freesat: Channel 723
Sky: Channel 0113
Virgin: Channel 960

Radio X 's slogan: "Get Into The Music"
Do You see incomplete, outdated or incorrect information on our site? Do You think You know more about a radio? Help us, write to us on Facebook and in exchange we grant You advertisement free use of our site! :)
Contacts






















































More radios
Radio X comment box
This box is not read by the Radio's staff! So if You would like to ask for a song, or to send a word to the radio presenter, try the
Facebook Box
or
one of the contacts!
News about Radio X
Similar radio stations in other countries
Have You liked our Facebook page yet?
Issy on Radio X with the best new music and classic tunes. Get in touch @RadioX
06:30 -
The Chris Moyles Show
Continuing his mission to Save Radio, Moyles and his dedicated team kick off Radio X each morning with the biggest show on the air. Get in touch @RadioX
Toby gets things going with some hilarious chat and great music. Starting with The Request Hour - get your choices in...Tweet @RadioX
Dan takes over Radio X with new music, big tunes and the odd topical observation. Get in touch @RadioX
Johnny is joined by the crack team of Gavin "The Woodman" Woods, Doctor Sunta Templeton, Big Si and Little Si for chat and music. Contact the show @RadioX.
George has some LOST TAPES - archive session tracks dug out from our library. @RadioX
Adam plays the biggest rock'n'roll tunes and classic anthems.