LBC London News 1152 LIVE - LBC News Radio LIVE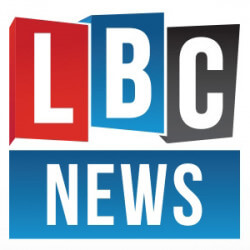 About LBC London News 1152
Listen online to the internet radio of LBC London News live here, on UK Radio Live!
LBC London News is LBC 97.3's close sister station, with 598.000 weekly listeners. Similarly to LBC 97.3, LBC London News is not interested in any musical content. So the released time is filled with current news about the world and the UK, especially about London and its agglomeration. Furthermore phone-ins, live conversations, traffic information and weather news diversify and make the informative broadcasting complete. LBC London News is in the ownership of Global Media & Entertainment Ltd.
LBC London News' mornings are led by Jim Diamond who sets the starting lines of the daytime conversations on weekdays from 7am to 11am.
You can tune to LBC 97.3 below the player, moreover
LBC 97.3
is included as individual station here, on UKRadioLive.
LBC Radio presenters: Nick Ferrari, James O'Brien, Shelagh Fogarty, Iain Dale, Nigel Farage Steve Allen, Clive Bull, Tom Swarbrick, Maajid Nawaz, Matt Frei, Andrew Castle, Beverley Turner, Nick Abbot, Andrew Pierce, Darren Adam, Lucy Beresford, Ian Payne, Stig Abell, Matt Stadlen
LBC London News availability: You can follow LBC London News on the analogue radio way on 1152 AM in London, and you can choose from several digital solutions. We recommend the online radio stream.
DigitalTV:
Sky: Channel 124
Virgin: Channel 965
LBC London News 1152 's slogan: "London's news. All the time."
Contacts






















































LBC London News 1152 comment box
This box is not read by the Radio's staff! So if You would like to ask for a song, or to send a word to the radio presenter, try the
Facebook Box
or
one of the contacts!
News about LBC London News 1152