Heart 90s LIVE - Heart 90s Radio LIVE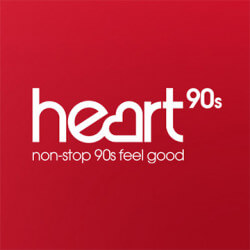 About Heart 90s
Listen online to the internet radio of Heart 90s live here, on UK Radio Live!
Heart 90s launched in 2019 as the decade oriented, digitally distributed sister station of Heart radio. Heart 90s is in the ownership of Global Media & Entertainment Ltd., and has 627.000 weekly listeners through only digital distribution.
Heart 90s' breakfast show between 6am and 10am on weekdays is led by Kevin Hughes.
Heart's other sister stations -
Heart Extra
,
Heart 80s
, Heart 70s and
Heart Dance
- are available below the player.
Heart 90s music genre: pop
Heart 90s availability: Heart Dance is not available by the traditional analogue way, but available across the UK by DAB, and worldwide by its online distribution. We recommend the online radio stream.
Heart 90s 's slogan: "Non-Stop 90s Feel Good"
Contacts






















































Heart 90s comment box
This box is not read by the Radio's staff! So if You would like to ask for a song, or to send a word to the radio presenter, try the
Facebook Box
or
one of the contacts!
News about Heart 90s
RAJAR Q4 2019: New record for digital radio listening
Digital listening share has increased by 11% to a new record of 58.5%, up from 52.6% in Q4 2018 in the latest figures for Q4 2019. They were boosted by the launch of new national commercial digital stations, and the growth of listening online via smart speakers in home and DAB listening in car. Overall digital listening grew by 43.4 million hours or 8% year on year. Listening via online and apps grew by 28.5 million hours (or by 30%) to now account for 12.5% of all listening and 21.5% of digital listening...
More >>
radiotoday.co.uk - 06.02.2020
RAJAR Q4 2019: London and national brands round-up
Coverage of the general election helped 5 Live, Radio 4 and LBC each add half a million listeners across 2019. 5 Live is up from 4.9m to 5.4m in the Q4/2019 RAJAR listening figures, while Radio 4 has added a similar amount, rising from 10.4m a year ago to 10.9m now. LBC, including new digital station LBC News, posts a record high of 2.7m listeners (up more than half a million year on year), while talkRADIO is up more than 40% from 12 months ago to now have 433,000 listeners a week – another record high for the Wireless station...
More >>
radiotoday.co.uk - 06.02.2020
Heart 90s to launch on national DAB digital radio
Global is transforming its Heart 90s playlist service into a full national radio station on DAB, with Kevin Hughes hosting breakfast. It's the first of five new services all going national on DAB in the next week – as teased by Global over the last few days. Heart 90s will officially launch tomorrow at 6am – Thursday 29th August – with non-stop music from the 90s and joins Heart, Heart Dance and Heart 80s which all have live national breakfast shows from Leicester Square. Kevin Hughes currently hosts Saturday afternoons on Heart, and previously presented Drive on Heart South Wales...
More >>
radiotoday.co.uk - 28.08.2019
Do You like this radio? Recommend it to your friends!
Recommended Radios