Heart 90s LIVE - Heart 90s Radio LIVE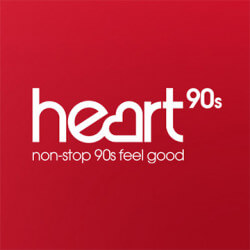 About Heart 90s
Contacts






















































More radios
Heart 90s comment box
This box is not read by the Radio's staff! So if You would like to ask for a song, or to send a word to the radio presenter, try the
Facebook Box
or
one of the contacts!
News about Heart 90s
Do You like this radio? Recommend it to your friends!
Recommended Radios
06:00 -
Heart 90s Breakfast with Kevin Hughes
Join Kevin Hughes for Heart 90s Breakfast. He's got the best Feel Good hits from the 90s, plus gossip and good times until 10am. Tweet @heart90s to get in touch.
Feel Good like they did back in the 90s with all your favourite hits from the decade that brought us Britney, Christina Aguilera, Take That and Destiny's Child. Tweet us @heart90s
90s Feel Good... 24/7! Love Britney, Backstreet Boys and other pop icons? You're in the right place! Tweet @heart90s to get in touch!
What's more Feel Good than singing along to all your 90s favourites? Tune in to Heart 90s for all the best pop bangers, smash hits and forgotten favourites. Tweet us @Heart90s
Feel Good like they did back in the 90s with all your favourite hits from the decade that brought us Britney, Christina Aguilera, Take That and Destiny's Child. Tweet us @heart90s