Heart 90s - Heart 90s Radio - Heart 90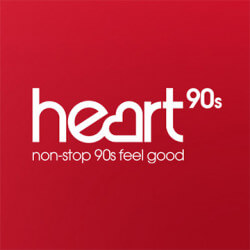 About Heart 90s
Contacts - Phone number, SMS, E-mail, Facebook etc.
Heart 90s frequencies
The broadcast is available across the UK by DAB and worldwide by its online distribution, we recommend the online radio stream.
More radios
Heart 90s comment box
This box is not read by the radio's staff! So, if you would like to ask for a song, or send a word to the radio presenter, try one of the
contacts
!
News about Heart 90s
Similar radio stations in other countries

14:01
Amy Grant - Baby Baby

13:56
Kd Lang - Constant Craving

13:53
Will Smith - Men In Black

13:50
Spice Girls - Spice Up Your Life

13:44
P Diddy & Faith Evans - I'll Be Missing You


13:36
Go West - King Of Wishful Thinking

13:31
Mariah Carey - Honey

13:25
Salt N Pepa - Let's Talk About Sex

13:22
S Club 7 - Bring It All Back
Get older playlist
06:00 -
Heart 90s Breakfast with Kevin Hughes
Join Kevin Hughes for Heart 90s Breakfast. He's got the hits from the 90s, plus gossip and good times until 10am. Tweet @heart90s to get in touch.
Sounding as good as they did in the 90s with all your favourite hits from the decade that brought us Britney, Christina Aguilera, Take That and Destiny's Child. Tweet us @heart90s
90s Feel Good... 24/7! Love Britney, Backstreet Boys and other pop icons? You're in the right place! Tweet @heart90s to get in touch!
There's nothing better than singing along to all your 90s favourites. Tune in to Heart 90s for all the best pop bangers, smash hits and forgotten favourites. Tweet us @Heart90s
Sounding as good as they did in the 90s with all your favourite hits from the decade that brought us Britney, Christina Aguilera, Take That and Destiny's Child. Tweet us @heart90s