Heart 90s LIVE - Heart 90s Radio LIVE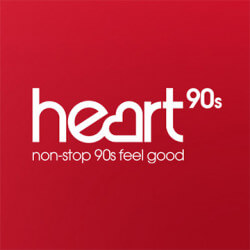 About Heart 90s
Listen online to the internet radio of Heart 90s live here, on UK Radio Live!
Heart 90s launched in 2019 as the decade oriented, digitally distributed sister station of Heart radio. Heart 90s is in the ownership of Global Media & Entertainment Ltd., and has 456.000 weekly listeners through only digital distribution.
Heart 90s' breakfast show between 6am and 10am on weekdays is led by Kevin Hughes.
Heart's other sister stations -
Heart Extra
,
Heart 80s
, Heart 70s and
Heart Dance
- are available below the player.
Heart 90s music genre: pop
Heart 90s availability: Heart Dance is not available by the traditional analogue way, but available across the UK by DAB, and worldwide by its online distribution. We recommend the online radio stream.
Heart 90s 's slogan: "Non-Stop 90s Feel Good"
Contacts






















































Heart 90s comment box
This box is not read by the Radio's staff! So if You would like to ask for a song, or to send a word to the radio presenter, try the
Facebook Box
or
one of the contacts!
News about Heart 90s
Do You like this radio? Recommend it to your friends!
Recommended Radios