Gold LIVE - Gold FM LIVE - Gold Radio LIVE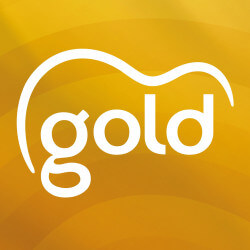 About Gold Radio
Listen online to the internet radio of Gold Radio live here, on UK Radio Live!
Gold Radio network has above 1.3 million weekly listeners in the UK by it's 4 analogue stations, and by the digital distribution. The radio is in the ownership of Global Media & Entertainment Ltd. Gold's musical selection is from the happy peace times of the 50s, 60s, 70s, and 80s when music were more closer to the people's honest emotions, because the digital instruments were not capable to supersede the real instruments yet, so the tunes and sounds were more natural, and also the messages of the songs were more valid, not so separated from the reality as in present days.
Probably this causes the never fading charm, and popularity of these greatest hits, and makes Gold a great choice for the nostalgic music lover adults.
To see what the broadcaster thinks about the heroic age of the music, here are the radio's examples of the decisive impact artists, and bands which strongly formed the world of modern music in the past century: The Beatles, Elvis Presley, Aretha Franklin, Buddy Holly, Blondie, The Who, The Beach Boys, David Bowie, The Rolling Stones, Diana Ross, The Eagles, Rod Stewart, Stevie Wonder, Elton John.
In the station's schedule, the morning-shows take place on weekdays from 6am to 10am with James Bassam in "The More Music Breakfast Show".

Music genre: pop

You can tune in on the traditional analogue radio way on AM frequencies - For the detailed AM allocation, check the Frequencies section and the Frequency Map! - You can reach Gold radio on the digital ways, we recommend the online radio stream.

Gold Radio 's slogan: "The Greatest Hits of all Time"
Do You see incomplete, outdated or incorrect information on our site? Do You think You know more about a radio? Help us, write to us on Facebook and in exchange we grant You advertisement free use of our site! :)
Contacts
Derby

-

945

AM
London - Greater London

-

1548

AM
Manchester

-

1458

AM
Nottingham

-

999

AM
DAB Digital Radio: Gold
DigitalTV:
Freesat: Channel 722
Sky: Channel 0121
Virgin: Channel 923
Gold Radio Frequency map






















































More radios
Gold Radio comment box
This box is not read by the Radio's staff! So if You would like to ask for a song, or to send a word to the radio presenter, try the
Facebook Box
or
one of the contacts!
News about Gold Radio
Similar radio stations in other countries
Do You like this radio? Recommend it to your friends!
Recommended Radios
00:00 -
The Golden Year Rewind: 1966
James Bassam takes you back in time for an hour of 1966's greatest songs, biggest news stories, TV shows, films, sporting moments and more.
David Andrews has the perfect soundtrack as he plays nothing but the Greatest Hits of All Time on Gold.
12:00 -
Gold's Greatest Hits
Gold plays the greatest hits of all time, nonstop.
13:00 -
The Music Marathon
We're playing the greatest hits of all time nonstop. Find us online at www.mygoldmusic.co.uk
Featuring the greatest hits of the 1960s from The Beatles to Motown, welcome to 60s Saturday!
19:00 -
Gold's Soul and Motown Show
Gold celebrates the greatest soul and Motown hits of all time, from Marvin Gaye to Stevie Wonder and Aretha Franklin.
21:00 -
Destination Midnight
Gold plays laid back classics and the Greatest Ballads of All Time in Destination Midnight, the perfect way to wind down the day.