Virgin Radio UK - Virgin Radio - Virgin Radio LIVE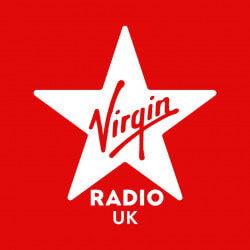 Virgin Radio UK - 128 Kbps
About Virgin Radio UK
Listen to the internet radio of Virgin Radio live, which launched in 2016 as a digitally distributed station in the ownership of the Wireless Group.
The broadcaster builds its programme structure and playlist primarily for the adult age group. This way the playlist selects from the 80s to the present, so classic songs and new ones are aired mainly from the pop, rock and alternative genres, and the radio's presenters lead the conversations with guests in shows, and with the listeners in phone-ins about various topics through the day.
Virgin Radio UK guarantees the good vibes for the dynamic start of the weekday mornings from 6:30am to 10am with "The Chris Evans Breakfast Show with Sky" - which programme is shared with the radio's three sister stations, and the Saturday and Sunday mornings are launched by Jayne Middlemiss from 6:00am to 9:30am, then "The Graham Norton Show with Waitrose" vivify the weekend mornings from 9:30am to 12:30pm.

The sister stations of Virgin UK - Anthems, Chilled, Pride are available below the player!

Virgin Radio UK 's slogan: "It's all about the music."
Do You see incomplete, outdated or incorrect information on our site? Do You think You know more about a radio? Help us, write to us on Facebook and in exchange we grant You advertisement free use of our site! :)
Contacts
Virgin Radio UK frequencies
The broadcast is distributed only digitally, so the digital solutions like DAB Digital Radio and Digital TV are available, we recommend the online radio stream.
DigitalTV: Sky - Channel 0215, Freesat - Channel 736















































Afro Diaspora Radio Online







More radios
Virgin Radio UK comment box
This box is not read by the Radio's staff! So if You would like to ask for a song, or to send a word to the radio presenter, try the
Facebook Box
or
one of the contacts!
News about Virgin Radio UK
Similar radio stations in other countries

02:14
Harry Styles - As It Was

02:09
Bruce Springsteen - Glory Days


01:54
David Bowie - China Girl

01:49
Katy Perry - Hot N Cold (rock Version)

01:44
John Parr - St Elmo's Fire

01:38
Green Day - Good Riddance (time Of Your Life)

01:33
Marcus Mumford - Grace

01:28
Genesis - Invisible Touch

01:23
Oasis - Morning Glory
Get older songs
If you're up at this time, there must be a good reason for it. Or not. We don't judge. Either way, Sean is here to soundtrack your night with the best songs.
Rich Williams is waking you up with the very best early morning soundtrack.
06:30 -
Tom Allen on the Chris Evans Breakfast Show with Sky
Tom catches up with ALEX BROOKER and CLAIRE RICHARDS!
Steve has the biggest and best soundtrack for your day. Whether you're working or not, Play it Loud!
Afternoon, it's One Year at One Time! The lovely Tim has a bunch of songs all from the same year...but which year is it? Want to get in touch? Drop Tim a text on 87222 starting with the word VIRGIN.
Need some energy? Well Gaby has plenty to spare! She has the greatest stories, life-changing hacks and, of course, the best music to get you home.
Somebody decided to let Bam loose in a radio studio with a bunch of the best music around. We promise you'll like what you hear. Play it loud!
It may be late in the day but Olivia Jones still has a stack full of the best songs around to soundtrack your night. Whatever you're up to, play it loud!