Ipswich 102 LIVE - Ipswich 102 Radio LIVE - Ipswich LIVE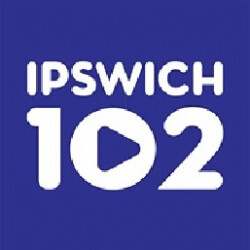 About Ipswich 102
Listen online to the internet radio of Ipswich 102 live here, on UK Radio Live!
Ipswich 102 is the brand new local radio station for the people of Ipswich, working by its digital distributions via the internet, and on DAB Digital Radio. The analogue radio distribution started on 19th October 2018, and taken the frequency band of Town 102. Ipswich 102 has 31.000 weekly listeners, and is in the ownership of Bauer Radio Ltd., part of Bauer's Greatest Hits Radio network and part of the Planet Radio station group.
Ipswich 102 music selection has wide time-span, which brings mainly popular music from the 60s to the present, but besides the pop music, also R&B, dance, and soft rock diversify the varied music line-up.
Ipswich 102 serves locally focused Ipswich news, travel-traffic info, and weather reports for the people of Suffolk.

Ipswich 102 music genres: pop, dance, R&B, rock

Ipswich 102 availability: You can tune in your traditional analogue radio on 102 FM in Ipswich, and You can also choose from its digital distributions. We recommend the online radio stream.

DAB Digital Radio: Ipswich 102 (Suffolk)

Ipswich 102 's slogan: "The New Radio Station for Ipswich"
Do You see incomplete, outdated or incorrect information on our site? Do You think You know more about a radio? Help us, write to us on Facebook and in exchange we grant You advertisement free use of our site! :)
Contacts






















































More radios
Ipswich 102 comment box
This box is not read by the Radio's staff! So if You would like to ask for a song, or to send a word to the radio presenter, try the
Facebook Box
or
one of the contacts!
News about Ipswich 102
Opinion: RadioToday industry predictions for 2020
One thing is for sure – radio is changing at an incredible pace. Keeping up with emerging products and making full use of smart technology is key. But whilst the art of 'input' is changing, the 'output' has remained fairly static for many decades. Listeners can still hear a friendly voice on the radio at all hours of the day – the major difference is where the voice is located and when they were recorded. But let's dig deeper down into the industry and see what 2020 might bring...
More >>
radiotoday.co.uk - 01.01.2020
Ipswich 102 starts on DAB ahead of FM launch
Ipswich will be served by two dedicated local commercial radio stations from today as Ipswich 102 launches on DAB. Ipswich 102 is taking over the frequency currently used by Town 102 from October 19th after winning the licence in a re-advertisement battle earlier this year.
More >>
radiotoday.co.uk - 01.08.2018
Recommended Radios


05:07
Wham - Everything She Wants

04:53
John Parr - St Elmo's Fire

04:51
Johnny Nash - I Can See Clearly Now

04:44
The Police - Message In A Bottle

04:36
Maxi Priest - Close To You

04:32
Queen and David Bowie - Under Pressure

04:28
Chaka Khan - I'm Every Woman

04:24
Prince - Purple Rain

04:21
Jackie Wilson - I Get The Sweetest Feeling

04:17
Daryl Hall and John Oates - Maneater
Get older songs
Tony plays the biggest songs of the 70s, 80s and 90s.
Jenny starts your day with the biggest songs of the 70s 80s and 90s.
Pat re-runs the fun with the Top 10 at 10, has a Sharp Shoutout and 5 in-a-row with the Weekend Anthems.
13:00 -
Simon Mayo: The Album Show
Join Simon Mayo for a celebration of the biggest albums of the 70s, 80s and 90s.
16:00 -
Greatest Hits Superstars
A look at the life and times of some of the greatest musical artists of all time.
17:00 -
Now! That's What I Call A Chart Show
Mark Goodier counts down the greatest hits from two incredible years in music.
Arlene plays the biggest songs of the 70s, 80s and 90s.
21:00 -
Greatest Brits: Women in Music
Jackie Brambles chats to the greatest female musicians of the 80s and 90s to find out what it was like to be a woman, in the music industry.
Andy Crane plays the biggest songs of the 70s, 80s and 90s.