Times Radio - The Times Radio - Radio Times Online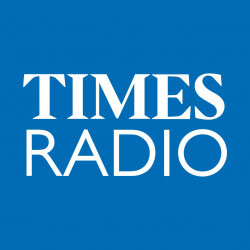 About Times Radio
Listen to the internet radio of Times Radio live, which launched on 29th of June 2020. The radio is in the ownership of the Wireless Group.
The station's mandate is to bring the professionalism and reliability of the legendary The Times magazine into an informative and trustworthy radio broadcast. For the success in that, the broadcaster's programmes are led by already proven presenters and other experts of the news-business like Aasmah Mir, Alexis Conran, Ayesha Hazarika, Calum Macdonald, Carole Walker, Cathy Newman, Hugo Rifkind, John Pienaar, Kait Borsay, Mariella Frostrup, Matt Chorley, Michael Portillo, Stig Abell, Anna Cunningham, Henry Bonsu, Chloe Tilley, Ruth Davidson.
The Times Radio is a commercial free talk-related radio, discussing all imaginable topics from politics and business through media and sports to environment, health and arts in an un-biased and balanced manner.
The radio starts each day of the week with the "Times Radio Breakfast" from 6am to 10am. From Monday to Thursday led by Aasmah Mir and Stig Abell, and from Friday to Sunday by Chloe Tilley and Calum Macdonald.

Times Radio slogan: "Conversation not Confrontation."
Do You see incomplete, outdated or incorrect information on our site? Do You think You know more about the radio? Help us, write to us on Facebook and in exchange we'll reward You with advertisement free use! :)
Contacts - Phone number, SMS, E-mail, Facebook etc.
Times Radio frequencies
The broadcast is not available on the traditional analogue radio way, but on the digital solutions like DAB Digital Radio, and by its online radio stream.






















































More radios
Times Radio comment box
This box is not read by the Radio's staff! So if You would like to ask for a song, or to send a word to the radio presenter, try the
Facebook box
or one of the
contacts
!
News about Times Radio
01:00 -
The best of Times Radio
Highlights from the week
05:00 -
Rosie Wright with Early Breakfast
Waking up the early risers
06:00 -
Kate McCann and Stig Abell with Times Radio Breakfast
All you need to know for the day ahead.
10:00 -
Matt Chorley: Good Morning, Good Morning, Good Morning, Good Morning
Matt welcomes listeners to the show and looks at the top stories of the morning.
10:35 -
Matt Chorley's Columnist Panel - Finkelvitch
Danny Finkelstein and David Aaronovitch join Matt to talk over the day's big stories.
11:05 -
Matt Chorley: Big Thing
An in-depth look at a big story of the moment. You don't want to miss this!
11:35 -
Matt Chorley's Coffee Break with Mariella Frostrup
Times Radio's most glamorous two-some get together to chew the fat.
11:45 -
Matt Chorley: More politics (still no boring bits)
Halfway through and the show isn't flagging (yey)
12:00 -
Matt Chorley's Midday Update
Your indispensable guide to the latest news, courtesy of Times journalists around the world.
12:35 -
Matt Chorley: If I Had A Day Off
A leading politician on their interests outside Westminster.
12:50 -
Matt Chorley's Quiz: Can You Get To Number 10?
Can our latest contestant become Prime Minister?
13:00 -
Mariella Frostrup: News of the day
Mariella looks at the big stories of the day so far.
13:35 -
Mariella Frostrup: Life and Times
Remembering a life well lived.
13:50 -
Mariella Frostrup In Conversation
A longer interview with a fascinating individual.
14:05 -
Mariella Frostrup: The 2pm Interview
An in-depth conversation with fascinating individuals.
14:35 -
Mariella Frostrup: On The Ground
The latest news from around the world.
14:45 -
Mariella Frostrup: Reviews
What you should be listening to, watching and reading.
15:00 -
Jane Garvey and Fi Glover
Lively conversation and a fresh look at the news.
17:00 -
John Pienaar with Times Radio Drive
In-depth discussion of today's news
19:00 -
Pienaar and Friends
John discusses the day's big stories with a range of experts.
20:00 -
The SNP Leadership Hustings
Aasmah Mir hosts a live debate with the three candidates vying to become SNP leader.