SAM FM 106 LIVE - SAM FM Radio LIVE - SAM FM LIVE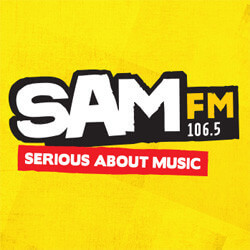 About SAM FM 106
Listen online to the internet radio of SAM FM live here, on UK Radio Live!
SAM FM launched in 2015, by rebranding the earlier Jack FM radio. SAM FM is comprised of three SAM FM radio stations, and 2 of them (SAM FM Bristol, SAM FM Swindon) is in the ownership of Bauer Radio Ltd., and 1 station (SAM FM South Coast) is in the ownership of Nation Broadcasting Ltd. The SAM FM radio network has 293.000 weekly listeners, and by its South Coast, Bristol and Swindon broadcasts, provides to its listeners the daily, locally relevant news, travel-traffic information, weather updates in the continuously flowing, carefully selected songs of rock and indie music.
The SAM FM Breakfast Show with Damien St John and Jules Mayne makes the mornings joyful on weekdays from 6am to 10am on the South Coast broadcast, while Kam Kelly cheer-up the weekday mornings from 6am to 10am on the Bristol and Swindon broadcasts.
In the summer festival season, SAM FM brings the biggest music festivals from the UK and Europe into the air in the framework of SAMFEST programme on Sundays from 7pm.

The default set here, is the "South Coast" station, but You can select each of SAM FM's stations below the player.

SAM FM music genres: rock, indie

SAM FM availability: You can tune in your traditional analogue radio in and around the South Coast, for the detailed FM allocation check the Frequencies section below, and the Frequency Map! SAM FM's broadcasts are available through the digital solutions, we recommend the online radio stream.

DAB Digital Radio: SAM FM (Portsmouth, Reading, Basingstoke)

SAM FM 106 's slogan: "We're in Charge" "Serious About Music"
Do You see incomplete, outdated or incorrect information on our site? Do You think You know more about a radio? Help us, write to us on Facebook and in exchange we grant You advertisement free use of our site! :)
Contacts
Bath

-

106.5

FM
Bournemouth

-

106.6

FM
Bristol

-

106.5

FM
Poole

-

106.6

FM
Somerset

-

106.5

FM
South Coast

-

106.0

FM
Swindon

-

107.7

FM
SAM FM 106 Frequency map






















































More radios
SAM FM 106 comment box
This box is not read by the Radio's staff! So if You would like to ask for a song, or to send a word to the radio presenter, try the
Facebook Box
or
one of the contacts!
News about SAM FM 106

23:44
Blondie - Picture This

23:41
The Jam - Town Called Malice


23:33
Electric Light Orchestra - Last Train To London

23:27
Dire Straits - Romeo And Juliet

23:24
The Rolling Stones - Let's Spend The Night Together


23:15
Ac/dc - You Shook Me All Night Long

23:12
Squeeze - Cool For Cats

23:09
Billy Joel - It's Still Rock And Roll To Me
Get older songs
00:00 -
Sam FM through the night
Sam FM plays REAL music all night long
08:00 -
Sunday morning with Craig Wright
It's the weekend! Join Craig Wright for REAL music to kick-start your Sunday
12:00 -
Sunday afternoon with Kam Kelly
Kam Kelly keeps your company throughout Sunday afternoon on the station that's SERIOUS about music... Sam FM
16:00 -
Sam FM at the weekend
More music from the station that's serious about music... Sam FM!
19:00 -
Sam FM's Greatest Hits
From Aerosmith to ZZ Top, Sam FM's Greatest Hits features all the icons of rock 'n roll. Tune in every night to hear the biggest songs Sam Fm has to offer in 4 hours of unbeatable classic tracks!
23:00 -
Sam FM's Late Night Legends
Join Sam FM every night for legendary songs, by legendary artists