SAM FM - SAM FM Bristol - SAM FM Radio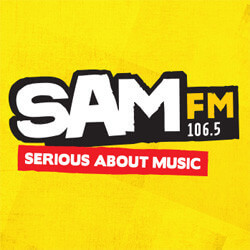 About SAM FM
Contacts
Bath

-

106.5

FM
Bournemouth

-

106.6

FM
Bristol

-

106.5

FM
Bristol area

-

106.5

FM
Somerset

-

106.5

FM
The broadcast is available on the traditional analogue radio way in Bristol area, and also on the digital solutions like DAB Digital Radio, we recommend the online radio stream.
SAM FM Frequency map






















































More radios
SAM FM comment box
This box is not read by the Radio's staff! So if You would like to ask for a song, or to send a word to the radio presenter, try the
Facebook Box
or
one of the contacts!
News about SAM FM

02:03
Eurythmics - Thorn In My Side

01:54
Kelly Clarkson - Since U Been Gone

01:50
Bran Van 3000 - Drinking In LA


01:38
Baddiel and Skinner and The Lightning Seeds - 3 Lions


01:31
Feeder - Buck Rogers

01:27
10cc - The Things We Do For Love

01:24
The Rembrandts - I'll Be There For You

01:17
The Script - Superheroes
Get older songs
00:00 -
Sam FM through the night
Sam FM plays REAL music all night long
08:00 -
Sunday morning with Craig Wright
It's the weekend! Join Craig Wright for REAL music to kick-start your Sunday
12:00 -
Sunday afternoon with Kam Kelly
Kam Kelly keeps your company throughout Sunday afternoon on the station that's SERIOUS about music... Sam FM
16:00 -
Sam FM at the weekend
More music from the station that's serious about music... Sam FM!
19:00 -
Sam FM in the evening
Hey! We're SAM FM, getting serious about music throughout the evening.
23:00 -
Sam FM through the night
Sam FM plays REAL music all night long