Absolute Radio - Absolute Radio LIVE - Absolute FM Radio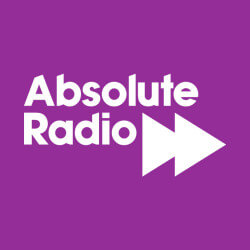 Absolute Radio - 128 Kbps
Absolute Classic Rock - 128 Kbps
About Absolute Radio
Listen to the internet radio of Absolute Radio live, which is highly known for its dedicated broadcasting of timeless and real music. For Absolute Radio, "real" means a non-electronic music selection from the last 5 decades, leaving out the assembly-line type music tracks, making more space and time for the unique ones of pop, rock and alternative which are destined to stand the test of time. The broadcaster is in the ownership of Bauer Radio Ltd.
To keep up the all-time unique feeling, the station offers its "No repeat guarantee", which means, there will be no track played twice between 10am and 4pm on weekdays.
The station's daily schedule aligns a show to every part of the day, like "The Dave Berry Breakfast Show" on weekdays from 6am to 10am with Dave Berry and Matt Dyson. The radio's breakfast show is broadcasted on all of the sister stations and it provides fresh news packages to the listeners by Emma Jones. The Saturday mornings are ignited by "The Frank Skinner Show" led by the award-winning comedian Frank Skinner, and his adjutants Alun Cochrane and Emily Dean.
The broadcaster's commitment in live music also can be traced in the covering of the biggest festivals, for example the Isle of Wight Festival, which excursions are supervised and hosted by Sarah Champion.
The radio offers a more specialized real-music selection by its sister stations, their names directly show the manner of the specialization: 60s, 70s, 80s, 90s, 00s, Classic Rock - the sister stations are distributed only digitally.

You can select the sister stations below the player, and they are available also as individual radio stations on UKRadioLive.

Absolute Radio 's slogan: "Real Music Matters."
Do You see incomplete, outdated or incorrect information on our site? Do You think You know more about a radio? Help us, write to us on Facebook and in exchange we grant You advertisement free use of our site! :)
Contacts
Belfast

-

1215

AM
Bournemouth area

-

1197

AM
Bristol

-

1215

AM
Central Scotland

-

1215

AM
Derby area

-

1197

AM
East Norfolk

-

1215

AM
East Northern Ireland

-

1215

AM
Essex

-

1215

AM
Gloucestershire

-

1197

AM
Herts

-

1215

AM
Isle of Wright

-

1215

AM
Kings Lynn

-

1242

AM
Lincs

-

1242

AM
London

-

1215

AM
London area

-

105.8

FM
North Durham

-

1215

AM
North East Essex

-

1233

AM
North East Suffolk

-

1215

AM
North West England

-

1215

AM
North Yorkshire

-

1242

AM
Northamptonshire

-

1233

AM
Nottingham

-

1197

AM
Oxfordshire

-

1197

AM
Peterborough

-

1242

AM
Somerset

-

1215

AM
South Beds

-

1215

AM
South Durham

-

1242

AM
South East Kent

-

1260

AM
South East Suffolk

-

1233

AM
South East Sussex

-

1260

AM
South Hampshire

-

1215

AM
South Northumberland

-

1215

AM
South Sussex

-

1197

AM
South Wales

-

1215

AM
Stoke-on-Trent area

-

1242

AM
Teeside

-

1242

AM
Tyneside

-

1215

AM
Western Midlands Region

-

1215

AM
Yorkshire

-

1215

AM
The broadcast is available on the traditional analogue way in the UK, and also on the digital solutions like DAB Digital Radio and DigitalTV, we recommend the online radio stream.
Digital TV: Freeview: Channel 727, Freesat: Channel 724, Sky: Channel 0107, Virgin: Channel 915
Absolute Radio Frequency map






















































More radios
Absolute Radio comment box
This box is not read by the Radio's staff! So if You would like to ask for a song, or to send a word to the radio presenter, try the
Facebook Box
or
one of the contacts!
News about Absolute Radio

02:07
The Police - Every Little Thing She Does Is Magic


01:54
Happy Mondays - Loose Fit

01:51
Semisonic - Secret Smile

01:48
The Fratellis - Whistle For The Choir

01:44
The Cure - Just Like Heaven

01:40
George Ezra - Budapest

01:37
Alanis Morissette - Ironic


01:28
New Order - True Faith
Get older songs
Early start today? No bother because Ross is here to kick-start your morning with some brilliant music.
08:00 -
The Frank Skinner Show
Frank, Emily and Alun are here to make you smile on a Saturday morning. Stick the kettle on and join them for a cuppa.
Whatever you're up to, Sarah Champion has your playlist sorted with brilliant music.
14:00 -
Rock 'N' Roll Football
What better way to keep up with all the football scores than with Matt Forde and Matt Dyson? It's music and goals like you've never heard before!
17:00 -
Andy Bush's Indie Disco
Andy Bush takes you back two decades for a show bulging with 90s Britpop and Indie classics. Grab your parka and let us start your Saturday proper.
19:00 -
Classic Rock Party
Claire has the soundtrack to your night, playing everything from Aerosmith to ZZ Top and everything in-between. It's the loudest show in radio.
22:00 -
Through The Decades
Sophie K plays the best songs from across the Absolute Radio network. From 60s to now, there'll be tracks you've not heard for ages!