Absolute Radio LIVE - Absolute LIVE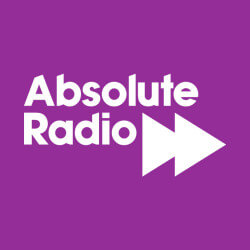 Absolute Radio - 128 Kbps
Absolute Classic Rock - 128 Kbps
About Absolute Radio
Listen online to the internet radio of Absolute Radio live here, on UK Radio Live!
Absolute Radio is the eleventh most listened to radio in the United Kingdom, more than 2.4 million weekly listeners count on it for its dedicated broadcasting of timeless and real music. For Absolute Radio, "real" means a non-electronic music selection from the last 5 decades, leaving out the assembly-line type music tracks, making more space and time for the unique ones which are destined to stand the test of time.
To keep up the all-time unique feeling, the station offers its "No repeat guarantee", which means, there will be no track played twice between 10am and 4pm on weekdays.
The station's daily schedule aligns a show to every part of the day, like "The Absolute Radio Breakfast Show" on Monday, Tuesday and Wednesday from 6am to 10am with Ben Burrell, Emma Jones, Glenn Moore and Matt Dyson, and on Thursday and Friday the "Dave Berry Breakfast Show" comes from 6am to 10am, with Dave Berry, Emma Jones, Glenn Moore and Matt Dyson. The radio's breakfast show is broadcasted on all of the 7 Absolute sister stations.
The broadcaster commitment in live music also can be traced in the covering of the biggest festivals, for example the Isle of Wight Festival.
The radio offers a more specialized real-music selection by its sister stations, their names directly show the manner of the specialization: 60s, 70s, 80s, 90s, 00s, Classic Rock - the sister stations are distributed only digitally, and You can find them here on UK Radio Live. The station is in the ownership of Bauer Radio Ltd.
You can select the sister stations below the player, the latest Absolute 10s, and
Absolute 70s
,
Absolute 80s
,
Absolute 90s
,
Absolute 00s
,
Absolute Classic Rock
are also included as individual stations here, on UKRadioLive.
Music genres: pop, rock, alternative
You can tune in on 105.8 FM (London and South-East), 105.2 FM (West Midlands), and all around the UK on 1215 AM, and the digital solutions are also optionable, we recommend the online radio stream.
Absolute Radio 's slogan: "Real Music Matters."
Do You see incomplete, outdated or incorrect information on our site? Do You think You know more about a radio? Help us, write to us on Facebook and in exchange we grant You advertisement free use of our site! :)
Contacts
London and South-East

-

105.8

FM
United Kingdom

-

1215

AM
West Midlands

-

105.2

FM
DAB Digital Radio: Absolute Radio (UK)
Digital TV:
Freeview: Channel 727
Freesat: Channel 724
Sky: Channel 0107
Virgin: Channel 915
Absolute Radio Frequency map






















































More radios
Absolute Radio comment box
This box is not read by the Radio's staff! So if You would like to ask for a song, or to send a word to the radio presenter, try the
Facebook Box
or
one of the contacts!
News about Absolute Radio
Have You liked our Facebook page yet?
Recommended Radios
Chris is on the nightshift with loads of great music, your requests and stuff to help you make it through the early hours.
Early start today? No bother because Chris Martin is here to kick-start your morning with some brilliant music.
06:00 -
The Dave Berry Breakfast Show
Dave Berry and Matt Dyson wake you up every day with the biggest guests, gigs and tunes.
10:00 -
The No Repeat Guarantee
Leona Graham brings you the No Repeat Guarantee - loads of great music and you'll never hear the same song twice. Text now on 81215 (50p + n/wk chrg) or tweet @AbsoluteRadio
13:00 -
No Repeat Guarantee
Ben Burrell brings you the No Repeat Guarantee - loads of great music and you'll never hear the same song twice. Text now on 81215 (50p + n/wk chrg) or tweet @AbsoluteRadio
16:00 -
Hometime with Bush & Richie
The Hometime show, brought to you by Andy Bush & Richie Firth. 3 hours of nonsense presented by 2 confused dads. Apologies in advance.
Danielle Perry is with you this evening playing brilliant music whether you're getting the dinner fired up or relaxing.
22:00 -
Through The Decades
Jay Lawrence plays the best songs from across the Absolute Radio network. From 60s to 00s, there'll be tracks you've not heard for ages!
Jay Lawrence is here to get your evening into shape with the best tunes.