Viking FM LIVE - Viking Radio LIVE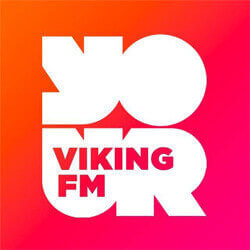 About Viking FM
Listen online to the internet radio of Viking FM live here, on UK Radio Live!
Viking FM is on air from 1984, broadcasting in the territory of Humberside. Today, Viking FM has 168.000 weekly listeners, and is in the ownership of Bauer Radio Ltd., and member of the Planet Radio station fleet.
Viking FM is the territorial competent radio station of Bauer's Hits Radio Network in Humberside, so Viking FM supplies East Riding of Yorkshire and Northern Lincolnshire with locally relevant news, sport, travel-traffic and weather reports in daytime. In nightime national, international news and sport also fill up the hourly and half-hourly rotating info rations. Besides that, good-mooded talk-shows, phone-ins diversify the programme structure, which is filled mainly with pop music from the last 15 years. The schedule is partly networked programming from Bauer's Hits Radio Network, like "The UK Chart Show" on Sundays from 4pm to 7pm, which is Bauer's own, brand-new chart show led by Sarah-Jane Crawford, with the hottest 30 songs.
On weekdays, from 7am to 11am, Alex and Ellie set the air for a happy wake-up in Viking FM's breakfast show.

You can select Viking FM's sister station, Viking 2, which plays the greatest hits of the 60s, 70s, 80s, and 90s below the player.

Viking FM music genre: pop

Viking FM availability: You can tune in to Viking FM with your traditional analogue radio on 96.9 FM in East Riding of Yorkshire and in Northern Lincolnshire, and the digital solutions are also optional. We recommend the online radio stream.

DAB Digital Radio: Viking FM (Humberside)

Viking FM 's slogan: "The Biggest Hits - The Biggest Throwbacks"
Contacts






















































Viking FM comment box
This box is not read by the Radio's staff! So if You would like to ask for a song, or to send a word to the radio presenter, try the
Facebook Box
or
one of the contacts!
News about Viking FM
Do You like this radio? Recommend it to your friends!
Recommended Radios