Pure Radio - Pure Radio Scotland - FM Pure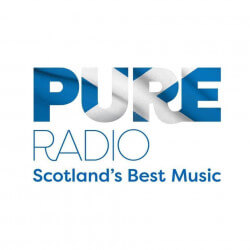 About Pure Radio
Listen online to the internet radio of Pure Radio, which was launched in 2019 after the rebranding of its predecessor Discovery 102 radio in Glasgow. Pure Radio is owned by DC Thomson Media and operates as a commercial radio station, aiming to be Scotland's most original source of music, news and entertainment. Initially, the broadcast was only available digitally, but not long ago two FM frequencies were added, available in and around Perth and Dundee. As a Scottish station, Pure focuses its news on Scotland and local events. The radio airs the best music of the last 40 years from different genres. Pure Radio Scotland launches the weekday mornings from 6am to 10am with "The Robin Galloway Breakfast Show".

The broadcast of Pure Radio ended in September 2023. Since then, the programme of Original 106 has been broadcast on the Pure Radio online stream.

Pure Radio slogan: "Scotland's Best Music"
Do you see incomplete, outdated or incorrect information on our site? Do you think You know more about the radio? Help us, write to us on Facebook and in exchange we'll reward you with advertisement free use! :)
Contacts - Phone number, SMS, E-mail, Facebook etc.
More radios
Pure Radio comment box
This box is not read by the radio's staff! So, if you would like to ask for a song, or send a word to the radio presenter, try one of the
contacts
!
News about Pure Radio
Pure Radio in Scotland closes citing disappointing figures
DC Thomson has closed its Scottish station PURE Radio after four years. The company says the service didn't quite reach the expected listener and revenue numbers.
More >>
radiotoday.co.uk - 12.09.2023
Pure Radio Scotland switches to all Christmas music all day
Pure Radio is playing nothing but Christmas music till the big day itself. The station, with Robin Galloway in the mornings, officially launched Christmas on November 25th, dropping all regular playlists for a month of festive favourites...
More >>
radiotoday.co.uk - 27.11.2022

12:44
Robert Palmer - Addicted To Love

12:40
Cyndi Lauper - Girls Just Want To Have Fun

12:31
Elton John - Kiss The Bride

12:27
Whitney Houston - How Will I Know

12:24
Ed Sheeran - Eyes Closed

12:11
Big Country - In A Big Country

12:07
Coldplay - Something Just Like This

12:04
Dead Or Alive - You Spin Me Round (Like A Record)

11:57
Diana Ross - Chain Reaction

11:49
The Pretenders - Don't Get Me Wrong
Get older playlist
06:00 -
The Robin Galloway Breakfast Show
Scotland's Best Music and chat every weekday morning 6am - 10.30am
22:00 -
The Pure Late Shift