Pure Radio - Pure Radio Scotland - FM Pure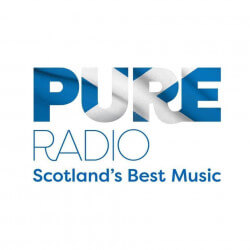 About Pure Radio
Contacts - Phone number, SMS, E-mail, Facebook etc.






















































More radios
Pure Radio comment box
This box is not read by the Radio's staff! So if You would like to ask for a song, or to send a word to the radio presenter, try the
Facebook box
or one of the
contacts
!
News about Pure Radio
Pure Radio Scotland switches to all Christmas music all day
Pure Radio is playing nothing but Christmas music till the big day itself. The station, with Robin Galloway in the mornings, officially launched Christmas on November 25th, dropping all regular playlists for a month of festive favourites...
More >>
radiotoday.co.uk - 27.11.2022
Have You liked our Facebook page yet?

21:03
Daft Punk Featuring Pharrell Williams - Get Lucky

21:00
Dead Or Alive - You Spin Me Round Like A Record



20:48
Frankie Miller - Caledonia


20:37
Bruce Springsteen - Dancing In The Dark

20:32
Eurythmics - Sweet Dreams

20:28
Pat Benatar - Love Is A Battlefield

20:24
Ed Sheeran - Celestial
Get older playlist
06:00 -
The Robin Galloway Breakfast Show
Scotland's Best Music and chat every weekday morning 6am - 10am
The Cheesiest Love Mixtape