Planet Rock LIVE - Planet Rock Radio LIVE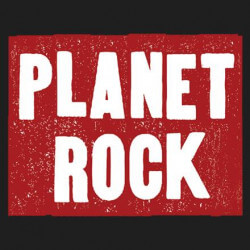 About Planet Rock
Listen online to the internet radio of Planet Rock radio live here, on UK Radio Live!
Planet Rock is the largest rock music specified radio station in the UK. In the time of its launch in 1999, was the only classic rock radio station, and since then faithfully represents the commitment in rock music with its musical offer. More than 1.2 million weekly listeners choose it for its solely rock music selection from the 70s, 80s, 90s, 00s and the present. Planet Rock radio is in the ownership of Bauer Radio Ltd., and member of the Planet Radio station fleet.
For the most authentic rock experience, string-expert rock legends as Alice Cooper, Joe Elliot, Danny Bowes lead the way in their own shows. The most important markers of Planet Rock's musical repertoire are Led Zeppelin, AC/DC, Black Sabbath, Foo Fighters, Muse. Furthermore other rock related programmes fill the schedule by live interviews, and on-air features.
Planet Rock kicks in the mornings with the loudest rock-breakfast shows on every day of the week. On weekdays from 6am to 10am Paul Anthony, on weekends from 7am to 10am Sam Hughes shake up the waves.

Music genre: rock

The broadcast is not available on the traditional analogue radio way, but on almost all digital solutions, we recommend the online radio stream.

Planet Rock 's slogan: "Where Rock Lives"
Do You see incomplete, outdated or incorrect information on our site? Do You think You know more about a radio? Help us, write to us on Facebook and in exchange we grant You advertisement free use of our site! :)
Contacts
Postal address: Planet Rock, One Golden Square, London, W1F 9DJ
Phone:
Studio:
+44 0333 202 5800
(Check your phone provider about actual call costs)
Reception:
+44 0207 434 1215
(Check your phone provider about actual call costs)
SMS: In case of texting to Wyatt, Darren Redick, Paul Anthony or The Request Show, please start your message with "ROCK", and your name followed by the message to: 81400 (Get informed by your network provider about SMS service costs)
In case of competitions the SMS number may be different, so can be heard in the programmes, and can be checked here:
https://www.planetrock.com/win
If you get lost in searching the right SMS number, or have any problems, call the Planet Radio on 0844 811 2211 (Check your phone provider about actual call costs)
Facebook:
https://www.facebook.com/planetrockradio
Twitter:
https://twitter.com/planetrockradio
Instagram:
https://www.instagram.com/planetrockradio
Youtube:
https://www.youtube.com/PlanetRockRadio
SoundCloud:
https://soundcloud.com/planet-rock
Website:
https://www.planetrock.com






















































More radios
Planet Rock comment box
This box is not read by the Radio's staff! So if You would like to ask for a song, or to send a word to the radio presenter, try the
Facebook Box
or
one of the contacts!
News about Planet Rock
Similar radio stations in other countries
Have You liked our Facebook page yet?
Recommended Radios
01:00 -
Through the Night
Great rock tunes to take you through the night!
Jeeves sits in for Wyatt, rocking your day with the finest tunes of all time!
Sam Hughes is serving Rock for breakfast every Saturday and Sunday morning from 7am!
Paul plays a great mixture of rock to get your Saturday going. Includes the 'Planet Rock Years'.
Each weekday, a Planet Rock listener picks an hour of their favourite tunes to play to the nation! Submit yours here by listing 20 tracks, plus a short summary of why you chose them!
Murray plays your requests throughout the afternoon. Tweet @planetrockradio or text MURRAY followed by your name, then your request to 64100 (Text cost your standard network rate).
Joe plays the music that has inspired him over the years, as well as sharing stories from three decades as the lead singer in Def Leppard.
Each week Loz Guest brings you an hour of the best Americana-tinged tracks.
20:00 -
Saturday Night Rocks The 80s
We bring you the perfect Saturday night soundtrack with two hours of huge 80s rock classics!
The Bluesmeister Bernard Doherty brings you two hours of the best classic and contemporary blues-infused cuts!