Planet Rock - Planet Rock Radio - Planet Rock LIVE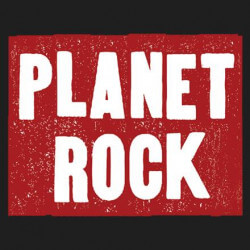 About Planet Rock
Listen to the internet radio of Planet Rock live, which is the largest rock music specified radio station in the UK. In the time of its launch in 1999, was the only classic rock radio station, and since then faithfully represents the commitment in rock music with its musical offer. The listeners choose it for its solely rock music selection from the 70s, 80s, 90s, 00s and the present. The station is in the ownership of Bauer Radio Ltd., and member of the Planet Radio station fleet.
For the most authentic rock experience, string-expert rock legends as Alice Cooper, Joe Elliot and Danny Bowes lead the way in their own shows. The most important markers of Planet Rock's musical repertoire are Led Zeppelin, AC/DC, Black Sabbath, Foo Fighters, Muse. Furthermore other rock related programmes fill the schedule with live interviews, and on-air features.
The broadcaster kicks in the mornings with the loudest rock-breakfast shows on every day of the week. On weekdays from 6am to 10am Paul Anthony shakes up the waves, on weekends from 7am to 10am Sam Hughes serves the breakfast rock.

Planet Rock slogan: "Where Rock Lives"
Do You see incomplete, outdated or incorrect information on our site? Do You think You know more about the radio? Help us, write to us on Facebook and in exchange we'll reward You with advertisement free use! :)
Contacts - Phone number, SMS, E-mail, Facebook etc.
Planet Rock frequencies
The broadcast is not available on the traditional analogue radio way, but on the digital solutions like DAB Digital Radio, we recommend the online radio stream.
DigitalTV: Sky - Channel 0110, Freesat - Channel 730, Virgin Media - Channel 924
More radios
Planet Rock comment box
This box is not read by the radio's staff! So if You would like to ask for a song, or to send a word to the radio presenter, try the
Facebook box
or one of the
contacts
!
News about Planet Rock
Similar radio stations in other countries


14:13
Robert John and The Wreck - Bring Me Back Home

14:10
Ac/dc - Shot Down In Flames

14:05
Sisters Of Mercy - This Corrosion

13:49
Deep Purple - Sometimes I Feel Like Screaming

13:46
Stone Temple Pilots - Trippin' On A Hole In A Paper Heart

13:37
Elegant Weapons - Do Or Die

13:33
Foo Fighters - Times Like These

13:29
Bachman Turner Overdrive - You Ain't Seen Nothin' Yet

13:18
Ozzy Osbourne - See You On The Other Side
Get older playlist
00:00 -
Through the Night
Great rock tunes to take you through the night!
Mark Jeeves plays you the finest tunes of all time
Sam Hughes is serving Rock for breakfast every Saturday and Sunday morning from 7am!
Thunder frontman Danny Bowes brings you great tunes, stories from the road and plays your Pocket Money Picks!
12:00 -
The Blues Power Sunday Brunch
Bernard Doherty brings you an hour of some of the biggest names in Blues. Whether you're enjoying eggs benedict or a greasy fry-up, Bernard will provide the perfect Hors d'oeuvre.
Murray plays your requests through the afternoon. Text MURRAY followed by your name, then your request to 64100 (Text cost standard network rate).
Wayward Sons and former Little Angels frontman Toby Jepson presents two hours of great rock and his tales from life on the road!
19:00 -
My Planet Rocks: Richie Faulkner
Ian Danter chats to Richie Faulkner about future plans with Judas Priest, his brand-new band Elegant Weapons and the time a ghost threw a Pantera CD at him!
20:00 -
The Long Player with Mark Jeeves
Epic rock songs that don't get played anywhere else! The longer, the better for the LP!