Planet Rock - Planet Rock Radio - Planet Rock LIVE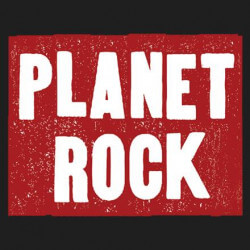 About Planet Rock
Listen to the internet radio of Planet Rock live, which is the largest rock music specified radio station in the UK. In the time of its launch in 1999, was the only classic rock radio station, and since then faithfully represents the commitment in rock music with its musical offer. More than 1.2 million weekly listeners choose it for its solely rock music selection from the 70s, 80s, 90s, 00s and the present. The station is in the ownership of Bauer Radio Ltd., and member of the Planet Radio station fleet.
For the most authentic rock experience, string-expert rock legends as Alice Cooper, Joe Elliot, Danny Bowes lead the way in their own shows. The most important markers of Planet Rock's musical repertoire are Led Zeppelin, AC/DC, Black Sabbath, Foo Fighters, Muse. Furthermore other rock related programmes fill the schedule by live interviews, and on-air features.
The broadcaster kicks in the mornings with the loudest rock-breakfast shows on every day of the week. On weekdays from 6am to 10am Paul Anthony shakes up the waves, on weekends from 7am to 10am Sam Hughes serves the breakfast Rock.

Planet Rock 's slogan: "Where Rock Lives"
Do You see incomplete, outdated or incorrect information on our site? Do You think You know more about a radio? Help us, write to us on Facebook and in exchange we grant You advertisement free use of our site! :)
Contacts
The broadcast is not available on the traditional analogue radio way, but on the digital solutions like DAB Digital Radio, we recommend the online radio stream.






















































More radios
Planet Rock comment box
This box is not read by the Radio's staff! So if You would like to ask for a song, or to send a word to the radio presenter, try the
Facebook Box
or
one of the contacts!
News about Planet Rock
Similar radio stations in other countries
Recommended Radios

17:08
Pat Benatar - Hit Me With Your Best Shot

17:04
Tom Robinson Band - 2-4-6-8 Motorway

16:55
Love/Hate - Black Out In The Red Room

16:52
Led Zeppelin - Rock And Roll


16:41
Ac/dc - Shot In The Dark

16:35
Stephen Stills - Love The One You're With

16:31
Def Leppard - Run Riot

16:19
Gary Moore - Still Got The Blues

16:15
Samantha Fish - Twisted Ambition
Get older songs
00:00 -
Through the Night
Great rock tunes to take you through the night!
Wayward Sons and former Little Angels frontman Toby Jepson presents two hours of great rock and his tales from life on the road!
06:00 -
Breakfast with Paul Anthony
Rise and shine with the loudest breakfast show in the UK! Paul has your Full English selections, and the best rock music around. Then from 9am: The Planet Rock Years.
Wyatt takes you through the day with amazing rock from across the decades.
13:00 -
The Planet Rock Jukebox
Request the tracks you want to hear! Tweet @planetrockradio, text your choice to 64100 followed by HQ, or email Wyatt.
Darren Redick guides you through the afternoon with amazing rock from across the decades.
Each weekday, a Planet Rock listener picks an hour of their favourite tunes to play to the nation! Want to submit yours? Go to the Win section, or planetrock.com/rockblock
19:00 -
Friday Night Rocks with Andy Shier
Andy Shier kicks off the weekend with three hours of great party tunes!
22:00 -
Nights with Alice Cooper
The original master of shock rock, Alice Cooper presents "Nights with Alice", playing great tunes and telling a tale or two from his incredible career.