Pirate FM LIVE - Pirate Radio LIVE + Pirate 80s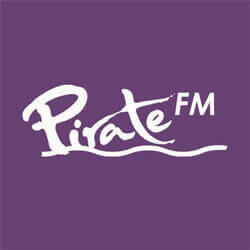 Pirate FM East - 128 Kbps
Pirate FM West - 128 Kbps
Pirate Worldwide - 128 Kbps
About Pirate FM
Listen online to the internet radio of Pirate FM live here, on UK Radio Live!
Pirate FM was launched in 1992 for the people of Cornwall. Today, the primary focus of Pirate FM remained to Cornwall, but by the digital solutions, Pirate FM is available not just in Cornwall. Pirate FM has 157.000 weekly listeners in the UK, and is in the ownership of UKRD Group Ltd.
Pirate FM offers a wide selection in its musical repertoire, because the line-up begins in the 60's until to the present, and brings the most popular music alongside with less known but melodically valuable ones.
Pirate radio is serious about the enthusiastic serving of Cornwall, because the Pirate FM news are separated between the two stations in the county, and specialized to East Cornwall, and West Cornwall, and this relevance is true about the traffic-travel info, and weather reports.
Pirate FM's schedule starts its morning show earlier than the usual, so from 5am to 10am, Lucy Start and Neil Caddy rev up the listeners' breakfast on weekdays.
Pirate FM has Pirate 80s digitally available sister station the 80's music.

You can choose Pirate FM's worldwide, west and east broadcasts and the Pirate 80s below the player.

Pirate FM music genre: pop

Pirate FM availability: You can tune in with your traditional analogue radio in Cornwall, on 102.8 FM (West) and on 102.2 (East). The digital solutions are also optionable to follow Pirate Radio, we recommend the online radio stream.

DAB Digtal Radio: Pirate FM (Cornwall)

Pirate FM 's slogan: "Love Cornwall, Love Music, Love Pirate FM"
Contacts






















































Pirate FM comment box
This box is not read by the Radio's staff! So if You would like to ask for a song, or to send a word to the radio presenter, try the
Facebook Box
or
one of the contacts!
News about Pirate FM
Eighties are the new seventies at Pirate FM
Pirate 70s has been removed from DAB in Cornwall and replaced by a new sister station – Pirate 80s. UKRD is continuing to operate Pirate 70s but online only, whilst Pirate 80s has launched with a full schedule of presenters this week, syndicated with Eagle 80s. The line-up includes Simon Rose on Breakfast, Ben Fry during the day and Chris Wright on afternoons, with Pat Sissons on weekends.
More >>
radiotoday.co.uk - 02.10.2018
Do You like this radio? Recommend it to your friends!
Recommended Radios