Magic Soul LIVE - Magic Soul Radio LIVE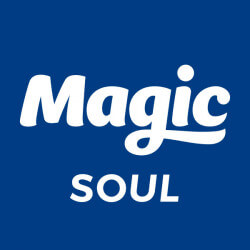 About Magic Soul
Listen online to the internet radio of Magic Soul, sister station of Magic Radio here, on UK Radio Live!
Magic Soul is one of Magic FM's sister stations, with 343.000 weekly listeners in the UK by the only digital distributing. Magic Soul is part of the Magic Network, so fulfills the network's mission of spreading the magic of music in the soul genre. The guarantee for the highest level of quality is the crew of Magic Radio, which coordinates the network's radios, and so the Magic Soul's programme structure and musical selection.
In the playlist, the iconic soul artists' best pieces line up along with the present's contemporary bests, thus forming a diversified, non-stop soulful music selection for beginners and the advanced soul lovers.
Magic Soul's schedule sets the soulful vibes of the mornings with Angie Greaves on weekdays from 7am to 10am.
Magic Soul is in the ownership of Bauer Radio Ltd., and member of Planet Radio station fleet.
You can tune to the other Magic radios below the player, and
Magic Radio
,
Mellow Magic
,
Magic Chilled
are also included as individual stations with HQ streams here, on UKRadioLive.
Magic Soul music genre: soul
Magic Soul availability: You can't tune in your traditional analogue radio to Magic Soul, because it is broadcasted only digitally, but there are digital solutions to listen in. We recommend the online radio stream.
DAB Digital Radio: Magic Soul
Magic Soul 's slogan: "The Best of Soul and Motown"
Contacts






















































Magic Soul comment box
This box is not read by the Radio's staff! So if You would like to ask for a song, or to send a word to the radio presenter, try the
Facebook Box
or
one of the contacts!
News about Magic Soul
RAJAR Q4 2019: London and national brands round-up
Coverage of the general election helped 5 Live, Radio 4 and LBC each add half a million listeners across 2019. 5 Live is up from 4.9m to 5.4m in the Q4/2019 RAJAR listening figures, while Radio 4 has added a similar amount, rising from 10.4m a year ago to 10.9m now. LBC, including new digital station LBC News, posts a record high of 2.7m listeners (up more than half a million year on year), while talkRADIO is up more than 40% from 12 months ago to now have 433,000 listeners a week – another record high for the Wireless station...
More >>
radiotoday.co.uk - 06.02.2020
RAJAR Q3 2018: Record share of 52.4% for digital radio
Digital listening share has remained above the important halfway mark and increased from 48.8% to 52.4% in the last 12 months. Total digital listening hours grew by 5.4% year on year, or 27.5 million hours. DAB listening in cars accounted for 11 million hours (or 40%) of all digital listening growth, while listening in home via online/Apps accounted for 13.5 million hours (or 49%) of all digital listening growth.
More >>
radiotoday.co.uk - 25.10.2018
Have You liked our Facebook page yet?
Recommended Radios