Hallam FM LIVE - Hallam FM Radio LIVE + Hallam 2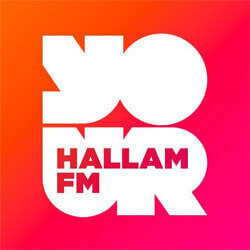 About Hallam FM
Listen online to the internet radio of Hallam FM live here, on UK Radio Live!
Hallam FM is in the ownership of Bauer Radio Ltd., member of the Planet Radio radio station fleet, and South Yorkshire's territorial competent radio of Bauer's Hits Radio Network. The station is located in Sheffield, and has 311.000 weekly listeners in the UK.
Hallam FM was launched in 1974 as Radio Hallam, therefore the station maybe older than its listeners majority, because its music playlist picks from the last 15 years.
Hallam FM offers in its schedule partly local programmes, partly networked programmes from Bauer's Hits Radio Network. In its local programming, talk-shows, phone-ins, and the latest locally relevant news, traffic-travel and weather info packages keep the listeners informed about South Yorkshire.
The mornings of Hallam FM are ignited by John Harrison alias "Big John", Liesl Soards, and James Crookes alias "Producer James" on weekdays in "Big John @ Breakfast" from 6am to 10am. Big John is the leader presenter of Hallam FM's breakfast show for almost 2 decades, as presenting it since 2000. Saturdays' morning shows are lead by Kelly Pegg and Mike Toolan from 9am to 12pm, and the Sundays' mornings are cheered-up by Kelly Pegg from 6am to 9am.
On Sundays "The UK Chart Show" is broadcasted from 4pm to 7pm, which is Bauer's own, brand-new chart show led by Sarah-Jane Crawford, with the hottest 30 songs.

You can select below the player Hallam 2, which is Hallam's greatest hits specialized sister station.

Hallam FM music genre: pop

Hallam FM availability: You can follow Hallam FM with your traditional analogue radio in South Yorkshire - For the detailed FM allocation, check the Frequencies section below, and the Frequency Map! Digital solutions are also optional to listen-in. We recommend the online radio stream.

DAB Digital Radio: Hallam

Hallam FM 's slogan: "The Biggest Hits - The Biggest Throwbacks"
Contacts






















































Hallam FM comment box
This box is not read by the Radio's staff! So if You would like to ask for a song, or to send a word to the radio presenter, try the
Facebook Box
or
one of the contacts!
News about Hallam FM
Do You like this radio? Recommend it to your friends!
Recommended Radios