Cool FM - Cool FM LIVE - Cool FM Listen LIVE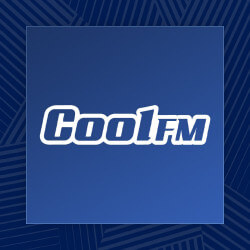 About Cool FM
Listen to the internet radio of Cool FM live, which was launched in 1990 as a sister station to Downtown Radio. Cool FM is based in Northern Ireland and is owned by Bauer Radio Ltd., and a member of the Planet Radio station fleet. It is Northern Ireland's largest radio station, catering to the 25-44 age group. As a result, the station's playlist is filled with the most popular music from the last 20 years, as well as some from the 80s and 90s. In addition to music, the daily schedule includes mainly Northern Ireland-related news, travel and traffic information, and weather reports. The radio's breakfast team, consisting of Paulo Ross, Pete Snodden, and Rebecca McKinney, ignites Northern Ireland's mornings from 6am to 10am on weekdays.

Cool FM slogan: "Northern Ireland's Number 1 for Music"
Do you see incomplete, outdated or incorrect information on our site? Do you think You know more about the radio? Help us, write to us on Facebook and in exchange we'll reward you with advertisement free use! :)
Contacts - Phone number, SMS, E-mail, Facebook etc.
More radios
Cool FM comment box
This box is not read by the radio's staff! So, if you would like to ask for a song, or send a word to the radio presenter, try one of the
contacts
!
News about Cool FM
Similar radio stations in other countries
Do you follow our Facebook page already?

12:37
Coldplay and BTS - My Universe

12:35
Wild Youth - All Again For You

12:31
Miley Cyrus - Used To Be Young

12:24
Sonny Fodera and MK ft. Clementine Douglas - Asking


12:14
Tom Grennan - How Does It Feel

12:11
Kylie Minogue - Tension

12:07
Galantis and Little Mix - Heartbreak Anthem

12:05
Jonas Brothers - Waffle House

11:56
Dermot Kennedy - Outnumbered
Get older playlist
Melissa playing all the hits, plus the iconic Cool Goes Quiet after 11pm - get involved now on Snapchat 'officialcoolfm'
Great non-stop music through the night.
06:00 -
Pete Snodden in the Morning
Morning from Pete, Paulo & Rebecca - playing all the hits to get you up, along with 'Top Of The Timeline' and 'Cool Before School'
It's another classic countdown on the Top 10 @ 10 - can you work out the year?
Listen in everyday for the Top 10 @ 10 and Cool of Rock
13:00 -
Afternoons with Curtis McCosh
Curtis has all the hits and you pick the songs on 'Your Call' every afternoon - get involved now on Snapchat 'officialcoolfm'
16:00 -
Cool Drive with John Kearns
JK has the hits at hometime
19:00 -
Cool Evenings with Hix
DJ Hix has the biggest hits of right now and the freshest new music every evening
Melissa playing all the hits, plus the iconic Cool Goes Quiet after 11pm - get involved now on Snapchat 'officialcoolfm'
End the day with 1 hour of the biggest chilled out tunes. Choose your favourites via WhatsApp or Instagram