Clyde 1 - Clyde Radio - Clyde 1 LIVE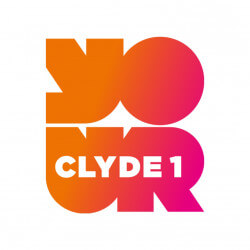 About Clyde 1
Listen to the internet radio of Clyde 1 live, which started in 31 december 1973 as a regional broadcaster in Scotland. The radio is in the ownership of Bauer Radio Ltd., part of Bauer's Hits Radio Network, and member of the Planet Radio group.
Clyde Radio's priority is to fill up the whole day with the last 15 years' biggest hits, primarily from the more dynamic pop music-line for keeping up the good mood and the increased energy level in the listeners' daily routine. The obligatory news bulletins with the important, locally relevant news with weather reports, and travel-traffic information remind the listeners about the world outside the music. The broadcaster's daily schedule is partly filled with networked programming from Manchester, the headquarters of Bauer's Hits Radio Network.
One of the station's most popular shows is the Superscoreboard diving into the world of Scottish Footbal with Gordon Duncan on weekdays from 18pm to 20pm, and on Saturday from 14pm to 18pm.
On Sundays "The UK Chart Show" is broadcasted from 4pm to 7pm, which is Bauer's own chart show led by Sarah-Jane Crawford, with the hottest 30 songs.
The station's morning show is led by George Bowie for more than 20 years, the "Bowie at Breakfast" takes the warm-up procedure of Glasgow and the West on weekdays from 6am to 10am.

Below the player You can select the broadcaster's greatest hits specialized sister station Clyde 2!

Clyde 1 's slogan: "The Biggest Hits - The Biggest Throwbacks"
Do You see incomplete, outdated or incorrect information on our site? Do You think You know more about a radio? Help us, write to us on Facebook and in exchange we grant You advertisement free use of our site! :)
Contacts
Alexandria

-

97.0

FM
Clyde Mouth

-

102.3

FM
Clydeside area

-

102.5

FM
Dumbarton

-

97.0

FM
Firth of Clyde

-

103.3

FM
Glasgow

-

102.5

FM
Greenock

-

103.3

FM
Largs

-

102.3

FM
Rothesay

-

102.3

FM
Vale of the Leven

-

97.0

FM
The broadcast is available on the traditional analogue radio way, and also the digital solutions like DAB Digital Radio, we recommend the online radio stream.
Clyde 1 Frequency map






















































More radios
Clyde 1 comment box
This box is not read by the Radio's staff! So if You would like to ask for a song, or to send a word to the radio presenter, try the
Facebook Box
or
one of the contacts!
News about Clyde 1


23:40
Maroon Five ft. Megan Thee Stallion - Beautiful Mistakes

23:36
Tom Walker - Just You And I

23:33
Craig David - Walking Away

23:22
Dermot Kennedy - Outnumbered

23:17
Chainsmokers and Coldplay - Something Just Like This

23:14
Mimi Webb - Good Without

23:06
Kelly Clarkson - Because Of You

23:03
Keith Urban and Pink - One Too Many

22:54
Tom Grennan - Little Bit Of Love
Get older songs
The biggest hits, the biggest throwbacks...
Gavin wakes you up on Sunday morning with the Biggest Hits from the Throwback weekend!
Ewen and Cat are back with their unique style of Banter for a Sunday morning.
Sunday afternoons with Cassi
16:00 -
The UK Chart Show
Sarah-Jane Crawford counts down the UK's biggest hits; if it's trending it's here!
19:00 -
If Walls Could Talk
Gordon Smart takes a musical trip round some of Scotland's most iconic music venues, in the company of some very special guests.
An epic end to the Throwback Weekend....Greigsy mixes your favourite throwbacks till 10!
Meg McHugh plays you some great acoustic chilled out versions of The Biggest Hits, The Biggest Throwbacks