Capital Dance - Capital Dance LIVE - Capital Dance Online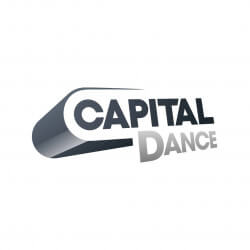 About Capital Dance
Contacts
The broadcast is not available on the traditional analogue ways, but on the digital solutions, like DAB Digital Radio and online radio stream.






















































More radios
Capital Dance comment box
This box is not read by the Radio's staff! So if You would like to ask for a song, or to send a word to the radio presenter, try the
Facebook Box
or
one of the contacts!
News about Capital Dance
Radio presenter Charlie Powell swaps KISS for Capital
DJ and producer Charlie Powell is joining Global as the new host of The Capital Weekender overnights. The former KISS and KISS FRESH host will be on-air from tomorrow every Saturday and Sunday from 1.30am till 5am and Monday afternoons on Capital Dance 4pm – 7pm. Charlie Powell said: "I'm so excited to be joining the Capital family. It hasn't sunk in yet, but it's a dream come true. My passion is always playing the biggest and best dance music for everyone and I am so grateful to have the opportunity to do this on the Capital Weekender & Capital Dance! I can't wait to get started!" ...
More >>
radiotoday.co.uk - 01.01.2021
Capital Dance introduces breakfast show with Rio Fredrika
Capital Dance is introducing a presented breakfast show to its schedule, to be hosted by Rio Fredrika. Rio, who currently hosts Monday Drive, will be on-air from 7am till 11am weekdays from January 4th 2021. Elsewhere MistaJam will continue hosting Tuesday to Saturday 4pm till 7pm and Coco Cole continues with the Capital Dance evening show, Mondays – Thursdays (7pm – 10pm) and the all-new Capital Weekender show from 10pm. Rio Fredrika said: "Honestly this is a dream come true! I am so unbelievably excited to be launching the Capital Dance Breakfast Show! I'm the most 'morning person' you'll ever meet so you can count on high energy and I'll be playing all the biggest dance tunes to kick-start your day! Can't wait to see you there."...
More >>
radiotoday.co.uk - 03.12.2020
Jammy move as Global poach MistaJam for Capital Dance
Capital is launching Capital Dance on DAB across the UK and has poached MistaJam from BBC Radio 1 to launch it – today – RadioToday can reveal. MistaJam, who resigned suddenly from the BBC last week, will host Tuesday to Saturday Drive on Capital Dance and the Capital Weekender, Friday and Saturday from 7pm on both Capital and Capital Dance. The new station launches today at 4pm on the Digital One multiplex. Capital's Coco Cole joins Capital Dance as the host of evenings, Monday – Thursday from 7pm. Coco will also host Friday & Saturday nights on the all-new Capital Weekender show with Ministry of Sound from 10pm...
More >>
radiotoday.co.uk - 01.10.2020
Have You liked our Facebook page yet?

01:52
Solardo & Eli Brown feat. Sharlene Hector - Xtc

01:50
Sonny Fodera & Just Kiddin feat. Lilly Ahlberg - Closer

01:46
Jonas Blue feat. Leon - Hear Me Say

01:43
Paul Woolford & Amber Mark - HEAT

01:39
Vantage feat. Todd Edwards - Think I'm In Love

01:37
Travis Scott & HVME - Goosebumps (Remix)



01:25
Noizu - Summer 91 (Looking Back)

01:22
Spencer Ramsay - Love With You
Get older songs
The Capital Weekender with Coco Cole & Charlie Powell
Coco and Charlie are live in the mix with Ministry of Sound. Non-stop dance, totally ad-free | @capitalofficial @capitaldance
Coco Cole
Coco Cole is going to end your night with a bang, with some huge club mixes dedicated to dance music | @capitaldance
The 11AM Mix
Time to pick it up a bit! Lets get into the mix with the biggest anthems and freshest beats | @capitaldance
The 1PM Mix
Time to pick it up a bit! Lets get into the mix with the biggest anthems and freshest beats | @capitaldance
MistaJam's NRG Mix
MistaJam brings the weekend e-n-e-r-g-y with a huge mix of new and classic anthems | @capitaldance
Non-Stop Dance
Get ready for the biggest dance anthems and club mixes, as we bring you non-stop tunes for the whole day | @capitaldance
MistaJam
Are you ready to party? Because MistaJam is, and he's brought some huge energy and sound with him | @capitaldance
The 1PM Mix
Time to pick it up a bit! Lets get into the mix with the biggest anthems and freshest beats | @capitaldance
The 1PM Mix
Time to pick it up a bit! Lets get into the mix with the biggest anthems and freshest beats | @capitaldance
Capital Dance Breakfast with Rio Fredrika
Rio Fredrika is waking you up with the biggest dance tunes to get you going! | @capitaldance
Non-Stop Dance
Get ready for the biggest dance anthems and club mixes, as we bring you non-stop tunes for the whole day | @capitaldance
The All-New Capital Weekender with MistaJam
MistaJam is live at the controls bringing the biggest party to your speakers | @capitalofficial @capitaldance
Non-Stop Dance
Get ready for the biggest dance anthems and club mixes, as we bring you non-stop tunes for the whole day | @capitaldance
Coco Cole
Coco Cole is going to end your night with a bang, with some huge club mixes dedicated to dance music | @capitaldance
MistaJam
Are you ready to party? Because MistaJam is, and he's brought some huge energy and sound with him | @capitaldance
The Capital Weekender with Charlie Powell
Charlie Powell's live in the mix with Ministry of Sound. Non-stop dance, totally ad-free | @capitalofficial @capitaldance
Chilled Beats
Unwind with chilled classics and low-key beats | @capitaldance
Non-Stop Dance
Get ready for the biggest dance anthems and club mixes, as we bring you non-stop tunes for the whole day | @capitaldance
MistaJam
Are you ready to party? Because MistaJam is, and he's brought some huge energy and sound with him | @capitaldance
Chilled Beats
Unwind with chilled classics and low-key beats | @capitaldance
Capital Dance Breakfast with Rio Fredrika
Rio Fredrika is waking you up with the biggest dance tunes to get you going! | @capitaldance
The 11AM Mix
Time to pick it up a bit! Lets get into the mix with the biggest anthems and freshest beats | @capitaldance
Non-Stop Dance
Get ready for the biggest dance anthems and club mixes, as we bring you non-stop tunes for the whole day | @capitaldance
Chilled Beats
Unwind with chilled classics and low-key beats | @capitaldance
Capital Dance Breakfast with Rio Fredrika
Rio Fredrika is waking you up with the biggest dance tunes to get you going! | @capitaldance
Coco Cole
Coco Cole is going to end your night with a bang, with some huge club mixes dedicated to dance music | @capitaldance
Chilled Beats
Unwind with chilled classics and low-key beats | @capitaldance
Non-Stop Dance
Get ready for the biggest dance anthems and club mixes, as we bring you non-stop tunes for the whole day | @capitaldance
The 1PM Mix
Time to pick it up a bit! Lets get into the mix with the biggest anthems and freshest beats | @capitaldance
Non-Stop Dance
Get ready for the biggest dance anthems and club mixes, as we bring you non-stop tunes for the whole day | @capitaldance
Non-Stop Dance
Get ready for the biggest dance anthems and club mixes, as we bring you non-stop tunes for the whole day | @capitaldance
MistaJam
Are you ready to party? Because MistaJam is, and he's brought some huge energy and sound with him | @capitaldance
Non-Stop Dance
Get ready for the biggest dance anthems and club mixes, as we bring you non-stop tunes for the whole day | @capitaldance
Non-Stop Dance
Get ready for the biggest dance anthems and club mixes, as we bring you non-stop tunes for the whole day | @capitaldance
Non-Stop Dance
Get ready for the biggest dance anthems and club mixes, as we bring you non-stop tunes for the whole day | @capitaldance
Non-Stop Dance
Get ready for the biggest dance anthems and club mixes, as we bring you non-stop tunes for the whole day | @capitaldance
Chilled Beats
Unwind with chilled classics and low-key beats | @capitaldance
Coco Cole
Coco Cole is going to end your night with a bang, with some huge club mixes dedicated to dance music | @capitaldance
The 11AM Mix
Time to pick it up a bit! Lets get into the mix with the biggest anthems and freshest beats | @capitaldance
The 11AM Mix
Time to pick it up a bit! Lets get into the mix with the biggest anthems and freshest beats | @capitaldance
Charlie Powell
Charlie Powell is here on Capital Dance and is ready to give you ALL the good vibes | @capitaldance
Capital Dance Breakfast with Rio Fredrika
Rio Fredrika is waking you up with the biggest dance tunes to get you going! | @capitaldance
Non-Stop Dance
Get ready for the biggest dance anthems and club mixes, as we bring you non-stop tunes for the whole day | @capitaldance
Non-Stop Dance
Get ready for the biggest dance anthems and club mixes, as we bring you non-stop tunes for the whole day | @capitaldance
The 11AM Mix
Time to pick it up a bit! Lets get into the mix with the biggest anthems and freshest beats | @capitaldance
The 1PM Mix
Time to pick it up a bit! Lets get into the mix with the biggest anthems and freshest beats | @capitaldance
Non-Stop Dance
Get ready for the biggest dance anthems and club mixes, as we bring you non-stop tunes for the whole day | @capitaldance
Non-Stop Dance
Get ready for the biggest dance anthems and club mixes, as we bring you non-stop tunes for the whole day | @capitaldance
Chilled Beats
Unwind with chilled classics and low-key beats | @capitaldance
Capital Dance Breakfast with Rio Fredrika
Rio Fredrika is waking you up with the biggest dance tunes to get you going! | @capitaldance