Absolute 70s LIVE - Absolute 70s Radio LIVE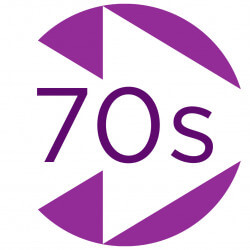 About Absolute 70s
Listen online to the internet radio of Absolute 70s, sister station of Absolute Radio live here, on UK Radio Live.
Absolute 70s started in 2011 as sister station of Absolute Radio. Offers almost the oldest music in the decade orientated sisterhood, as compiles its playlist from the 70s music. Despite the only digital distribution 230.000 weekly listeners choose it for nostalgia, or for an interesting experience to listen-in to the heroic age of music, when there wasn't any digital intervention into the sound-waves of the recordings. Except some harmless rudimentary synthesisers, there were real voices, real instruments, and true poetic values in the lyrics because there weren't digital upgrade options. The irony of fate, Absolute 70s is distributed only on the digital ways, there is no analogue availabilty for the voice of a digital-proof age of music.
Absolute 70s offers "No Repeat Guarantee", so in its scope, on weekdays from 10am to 6pm, there will no tracks be played twice on the same day.
Absolute 70s ingnites the mornings on weekdays with Tony Dibbin from 10am to 1pm.
Absolute 70s is in the ownership of Bauer Radio Ltd., and member of the Planet Radio station group.

Absolute 70s music genres: pop, rock, soul, disco

Absolute 70s availability: Absolute 70s is distributed only digitally, so You can't tune in with your traditional analogue radio, but several digital solutons are optionable. We recommend the online radio stream via the internet.

Absolute 70s 's slogan: "The UK's 70s radio station"
Do You see incomplete, outdated or incorrect information on our site? Do You think You know more about a radio? Help us, write to us on Facebook and in exchange we grant You advertisement free use of our site! :)
Contacts






















































More radios
Absolute 70s comment box
This box is not read by the Radio's staff! So if You would like to ask for a song, or to send a word to the radio presenter, try the
Facebook Box
or
one of the contacts!
News about Absolute 70s