45 Radio LIVE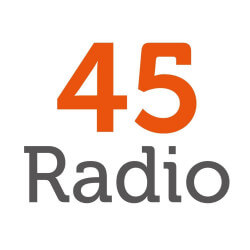 About 45 Radio
Listen online to the internet radio of 45 Radio here, on UK Radio Live!
45 Radio started in 2018 as digitally distributed radio station, in the ownership of 45 Radio & Media Ltd.
45 Radio's mission is to favor the undervalued listener community of the 45+ age group. There are other radio stations, who's banner is this age group, but 45 Radio promises a quality difference to the other radios, so their playlist is compiled with the less often played classics of the 60s, 70s, 80s, 90s.
Moreover 45 Radio offers an all-time ad-free music broadcasting, with the least disturbing interruptions. So everybody, who is already fed up with other radios' DJs', and presenters' permanent clucking into the best music parts, has now found the speech-free, commercial-free alternative daily music source.
The minimal interruptions in the continuous music flow occur by the short news bulletins, which inform about the most important national and international news, and a short weather report.
The list of the music-experts, who supervise the music line-up, and the programmes, speaks for itself: Carl Kingston, Chris Ashley, David Hamilton, Kev Roberts, Lynsey Dolan, Mark Mason, Mark Page, Noel Burke, Ozz Ozborne, Rick Dees, Scott Wilson, Steve Collins, Tony Peters

45 Radio music genres: pop, rock

45 Radio availability: You can't follow 45 Radio with your traditional analogue radio, but the digital solutions are optionable. We recommend the online radio stream via the internet.

DAB Digital Radio: 45 Radio (Birmingham, Glasgow & Greater Norwich)

45 Radio 's slogan: "The Home of Good Times & Great Music"
Do You see incomplete, outdated or incorrect information on our site? Do You think You know more about a radio? Help us, write to us on Facebook and in exchange we grant You advertisement free use of our site! :)
Contacts






















































More radios
45 Radio comment box
This box is not read by the Radio's staff! So if You would like to ask for a song, or to send a word to the radio presenter, try the
Facebook Box
or
one of the contacts!
News about 45 Radio
45 Radio launches in Norwich on DAB multiplex
A new radio station has launched in Norwich on DAB targetting the 45+ age group, called 45 Radio. 45 Radio is playing "Music for our generation" and is looking to expand to other areas in the near future, in addition to an online feed via apps and smart speakers. The station says it is "A lifestyle sound geared towards the future with events and more with at least 55 minutes per hour with no interruption"
More >>
radiotoday.co.uk - 25.07.2018
Recommended Radios
00:00 -
Midnight Love Affair
NO ADS - JUST NON STOP MUSIC