Times Radio - The Times Radio - Radio Times Online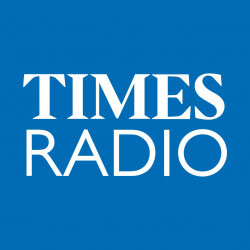 About Times Radio
Listen to the internet radio of Times Radio live, launched on 29 June 2020. The radio is owned by Wireless Group. The station's mission is to bring the professionalism and reliability of the legendary The Times magazine into an informative and credible radio broadcast. To ensure its success, the broadcaster's shows are hosted by established presenters and other experts in the news industry such as Aasmah Mir, Alexis Conran, Ayesha Hazarika, Calum Macdonald, Carole Walker, Cathy Newman, Hugo Rifkind, John Pienaar, Kait Borsay, Mariella Frostrup, Matt Chorley, Michael Portillo, Stig Abell, Anna Cunningham, Henry Bonsu, Chloe Tilley, Ruth Davidson. The Times Radio is a commercial-free talk radio, discussing everything from politics and business to media and sport, the environment, health and the arts in an unbiased and balanced way. The radio starts every day of the week with the "Times Radio Breakfast" from 6am to 10am. Monday to Thursday led by Aasmah Mir and Stig Abell, and Friday to Sunday by Chloe Tilley and Calum Macdonald.

Times Radio slogan: "Conversation, not Confrontation."
Do you see incomplete, outdated or incorrect information on our site? Do you think You know more about the radio? Help us, write to us on Facebook and in exchange we'll reward you with advertisement free use! :)
Contacts - Phone number, SMS, E-mail, Facebook etc.
Times Radio frequencies
The broadcast is not available on the traditional analogue radio way, but on the digital solutions like DAB Digital Radio, and by its online radio stream.
More radios
Times Radio comment box
This box is not read by the radio's staff! So, if you would like to ask for a song, or send a word to the radio presenter, try one of the
contacts
!
News about Times Radio
Similar radio stations in other countries
Do you follow our Facebook page already?
01:00 -
The best of Times Radio
Highlights from the week
05:00 -
Rosie Wright with Early Breakfast
Waking up the early risers
06:00 -
Aasmah Mir and Stig Abell with Times Radio Breakfast
All you need to know for the day ahead.
Politics without the boring bits.
13:00 -
Mariella Frostrup
The latest news, views and reviews to take you through the day.
15:00 -
Jane Garvey and Fi Glover
Lively conversation and a fresh look at the news.
17:00 -
John Pienaar with Times Radio Drive
In-depth discussion of today's news
19:00 -
Pienaar and Friends
John discusses the day's big stories with a range of experts.
20:00 -
The Evening Edition with Kait Borsay
Exploring the main stories of the day.
22:00 -
Rick Kelsey in for Carole Walker
Late night headlines