Sky News Radio - Sky Radio News - Sky News Live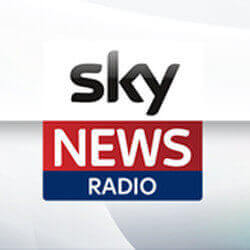 About Sky News Radio
Contacts - Phone number, SMS, E-mail, Facebook etc.
More radios
Sky News Radio comment box
This box is not read by the radio's staff! So, if you would like to ask for a song, or send a word to the radio presenter, try one of the
contacts
!
News about Sky News Radio
Television without pictures – Sky News now available on TuneIn
The audio output of Sky News is now available on TuneIn for users of the app the UK, Ireland and US. The live stream has been added after a new deal was agreed between the two companies, and does not affect the Sky News hourly bulletins delivered to radio stations...
More >>
radiotoday.co.uk - 24.05.2023
Similar radio stations in other countries