Radio X - Radio X LIVE - XFM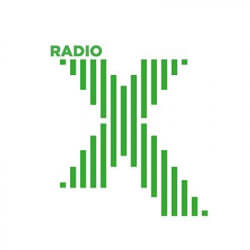 Indie Feel Good - 48 Kbps
Festival Favourites - 48 Kbps
Best of British with Greggs 2022 - 48 Kbps
About Radio X
Contacts
London

-

104.9

FM
Manchester

-

97.7

FM
The broadcast is available on the traditional analogue radio way, and also by the digital solutions like DAB Digital Radio and DigitalTV, we recommend the online radio stream.
DigitalTV: Freesat: Channel 723, Sky: Channel 0113, Virgin: Channel 960
Radio X Frequency map















































Afro Diaspora Radio Online







More radios
Radio X comment box
This box is not read by the Radio's staff! So if You would like to ask for a song, or to send a word to the radio presenter, try the
Facebook Box
or
one of the contacts!
News about Radio X
Similar radio stations in other countries


06:09
Paolo Nutini - Radio

06:05
Blur - Charmless Man

06:03
Arctic Monkeys - Fluorescent Adolescent

05:50
Manic Street Preachers - You Stole The Sun From My Heart


05:44
Nirvana - Come As You Are

05:42
The Libertines - Can't Stand Me Now

05:34
Jimmy Eat World - The Middle

05:31
The Fratellis - Whistle For The Choir
Get older songs
James brings you the biggest and best Radio X tunes. Listen live or catch up @GlobalPlayer.
06:30 -
The Chris Moyles Show
Continuing his mission to Save Radio, Moyles and his dedicated team kick off Radio X each morning with the biggest show on the air. Listen live or catch up @GlobalPlayer.
Issy sits in for Toby, taking the reins on The Request Hour - your chance to pick the playlist! @RadioX
Dan takes over Radio X with new music, big tunes and the odd topical observation. Get in touch @RadioX
Adam sits in on the Radio X Drivetime show. Listen live or catch up @GlobalPlayer
George revisits sessions from artists who have had the Xposure Album Playback treatment recently - before Kasabian on Friday night! Listen live or catch up @GlobalPlayer.
Elspeth on Radio X with the best new music and classic tunes. Get in touch @RadioX