Metro Radio - Metro Online - Metro Radio LIVE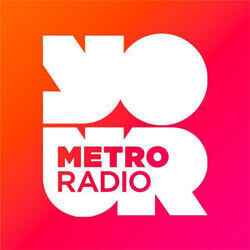 About Metro Radio
Listen to the internet radio of Metro Radio live, which was launched in 1974 and covers the North East England region, including Tyne and Wear, Durham, and Northumberland. Originally established as a local radio station, Metro Radio has been dedicated to providing the community with locally relevant news, international popular music, and uplifting, personable programs. The station is owned by Bauer Radio Ltd. and is a part of the Planet Radio station network. Metro Radio's schedule is a combination of locally produced and networked programming. The local programming segment delivers region-specific news, travel and traffic updates, as well as weather reports for North East England. This is complemented by enjoyable programs hosted by presenters and a selection of popular music from the past 15 years. One of the station's notable offerings is the "Steve & Karen's Breakfast Show," which holds the distinction of being one of the UK's longest-running morning shows, with over 20 years on air. Hosted by Steve Furnell and Karen Wight, this award-winning show airs on weekdays from 6am to 10am and has earned multiple accolades. "The Hits UK Chart," hosted by Sam Thompson, is Bauer's proprietary chart show featuring the top 40 hottest songs, and it is broadcast from 4pm to 7pm on Sundays.

Metro Radio slogan: "The Biggest Hits - The Biggest Throwbacks"
Do you see incomplete, outdated or incorrect information on our site? Do you think You know more about the radio? Help us, write to us on Facebook and in exchange we'll reward you with advertisement free use! :)
Contacts - Phone number, SMS, E-mail, Facebook etc.
Alnwick area

-

102.6

FM
Hexham

-

103.2

FM
North Durham

-

97.1

FM
South Northumberland

-

97.1

FM
Tyne & Wear

-

103.0

FM
Tyne Vallley

-

103.2

FM
Tyneside

-

97.1

FM
West Tyneside

-

103.0

FM
Metro Radio Frequency map
More radios
Metro Radio comment box
This box is not read by the radio's staff! So, if you would like to ask for a song, or send a word to the radio presenter, try one of the
contacts
!
News about Metro Radio


11:07
Ed Sheeran and Justin Bieber - I Don't Care

11:04
Puff Daddy and Faith Evans ft. 112 - I'll Be Missing You

10:53
Lady GaGa - Paparazzi

10:51
Timbaland ft. Keri Hilson and D.O.E - The Way I Are

10:48
Avicii ft. Aloe Blacc - Wake Me Up


10:44
Whitney Houston - It's Not Right But It's Okay

10:36
Sia ft. Kendrick Lamar - The Greatest

10:34
Shaggy ft. RikRok - It Wasn't Me
Get older playlist
The Biggest Hits, The Biggest Throwbacks with Jennie!
The biggest hits, the biggest throwbacks with Matt Crabb...
06:00 -
Steve & Karen's Breakfast Show
It's Steve & Karen waking up the greatest place on Earth, the North East!
10:00 -
The 10am Throwback
The biggest throwbacks, in the mix, every weekday morning at 10am...
The biggest hits, the biggest throwbacks with Tom Green...
The biggest hits, the biggest throwbacks with Hattie Pearson...
16:00 -
Mike Toolan & Brooke Vincent
Mike and Brooke get you home with the Biggest Hits and the Biggest Throwbacks...
19:00 -
Hits UK - Sam Thompson
Sam Thompson is here with Hits UK - with the biggest hits, biggest throwbacks and the biggest guests!
22:00 -
Sarah-Jane Crawford
The biggest hits, the biggest throwbacks with Sarah-Jane Crawford...