XS Manchester 106.1 LIVE - XS Manchester Radio LIVE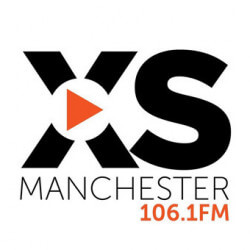 About XS Manchester 106.1
Listen online to the internet radio of XS Manchester live here, on UK Radio Live!
XS Manchester launched in 2008 as 106.1 Rock Radio, and after a few name changes, finally in 2016 got its current name. XS Manchester is in the ownership of Communicorp UK Ltd., and has 132.000 weekly listeners in the UK.
XS Manchester works as a local radio station serving primarily Manchester and North West England with locally related news, travel-traffic information, and weather updates. XS Manchester is home of the XS Football Social, so XS radio is dedicated to be the number one correspondent of Manchester sports community.
XS Manchester's playlist brings rock music all day long from every age of the genre.
The daytime's schedule is filled with talkative shows with presenters through the day, starting with the XS Manchester Breakfast on weekdays from 6am to 10am with Adam Brown, on weekends from 8am to 11am with Shell Zenner.

XS Manchester music genre: rock

XS Manchester slogan: "Music Made in Manchester" "Let The Good Times Roll"

XS Manchester availability: You can tune in your traditional analogue radio on 106.1 FM in Greater Manchester, and XS Manchester is available on the online digital solutions too. We recommend the online radio stream.
Do You see incomplete, outdated or incorrect information on our site? Do You think You know more about a radio? Help us, write to us on Facebook and in exchange we grant You advertisement free use of our site! :)
Contacts






















































More radios
XS Manchester 106.1 comment box
This box is not read by the Radio's staff! So if You would like to ask for a song, or to send a word to the radio presenter, try the
Facebook Box
or
one of the contacts!
News about XS Manchester 106.1
Recommended Radios


00:15
Oasis - (What`s The Story) Morning Glory


00:09
The Coral - In The Morning

00:06
Alfie Templeman - Forever Isn`t Long Enough

00:01
Red Hot Chili Peppers - Give It Away

23:54
Shed Seven - On Standby

23:51
Semisonic - Secret Smile

23:47
Eagle Eye Cherry - Save Tonight

23:43
James - She`s A Star
Get older songs
Our favourite tunes to get you through the night!
06:00 -
XS Manchester Breakfast Show with Alex James
Alex James wakes you up with the XS Manchester Breakfast Show!
Gareth Brooks playing the best tunes from Manchester and beyond
Sophie Sveinsson takes you through the afternoon with bags of tunes and Your XS
#ThatsGoodInnit Drive with Clint Boon
Big tunes, Manc tunes and New tunes on the XS Evening Show!
Our favourite tunes to get you through the night