Radio Lichfield LIVE - Lichfield Radio LIVE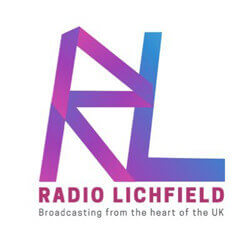 About Radio Lichfield
Listen online to the internet radio of Radio Lichfield live here, on UK Radio Live!
Radio Lichfield launched in 2019 and broadcasts from its Lichfield studios, directly from the heart of the UK. Radio Lichfield is in the ownership of Radio Lichfield.
Radio Lichfield's creation comes from the the big national broadcasters' decision, when they closed their local programming, and left their listeners no choice but to listen to their national programming without any local relevance, for financial reasons.
Radio Lichfield stepped in the field of radio broadcasting to fulfill the vacant local broadcaster's role, and to operate a radio which can be felt much closer to its listeners than a centrally managed unresponsive giant from a distance.
Radio Lichfield operates as a 24/7 music radio bringing the best songs of various music genres from the 60s, 70s, 80s, 90s, 00s, 10s and today's with news bulletins and weather updates at the top of the hour. The diverse music spectrum of Radio Lichfield's playlist is ordered in decade and genre oriented programmes in its schedule. The decade oriented programmes are built of pop music generally, but the genre line-up expands by specialist shows which bring club, soul, funk, jazz funk, rock, heavy metal, soft rock and more in the air.
The listeners have their chance to influence Radio Lichfield's playlist, as its official website (address can be found at the Contact section) has a "Song request" menu, where song preferences can be set. The most voted songs are played on weekdays, in "The Morning Show" from 6am to 9am, and in "The DriveTime Show" from 4pm to 6pm.
Radio Lichfield also supports the emerging talents as its daily programme, the "Lichfield Introduces" showcases the never heard, yet unsigned songs of musicians from all over the world. At the "Contacts" section You can find a link to submit your work if You're interested!

Radio Lichfield music genres: pop, rock, club, soul, funk, jazz funk, heavy metal, soft rock

Radio Lichfield is not available on the traditional analogue way, but online worldwide!

Radio Lichfield 's slogan: Broadcasting from the Heart of the U.K.
Do You see incomplete, outdated or incorrect information on our site? Do You think You know more about a radio? Help us, write to us on Facebook and in exchange we grant You advertisement free use of our site! :)
Contacts






















































More radios
Radio Lichfield comment box
This box is not read by the Radio's staff! So if You would like to ask for a song, or to send a word to the radio presenter, try the
Facebook Box
or
one of the contacts!
Recommended Radios


04:00
- News And Weather - #News #Headlines

03:09
- Elton John - I Don't Wanna Go On With You Like That

03:00
- News And Weather - #News #Headlines

03:00
- Elton John - I Don't Wanna Go On With You Like That

02:59
- Yazz & The Plastic Population - The Only Way Is Up

02:55
- Culture Club - The War Song

02:52
- Hear'Say - Pure & Simple

02:51
- Radio Lichfield - What The UK Jingle

02:48
- Katie Kittermaster - Sunday Afternoon

02:43
- Elton John - Circle of Life
Get older songs
06:00 -
Sunday Chill Out Show
08:00 -
Wake Up With Weechy
16:00 -
Vinyl Impressions