Peak FM LIVE - Peak 107 FM LIVE - Peak 107 LIVE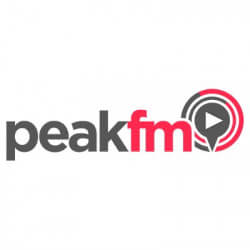 About Peak FM
Listen online to the internet radio of Peak FM live here, on UK Radio Live!
Peak FM started its broadcasting in 1998 from Chesterfield, originally as Peak 107 FM. Peak FM is in the ownership of Bauer Radio Ltd., and has 60.000 weekly listeners by its analogue and online distributions.
Peak FM works primarily as a local radio station, so in daytime mainly locally relevant news, sports, travel-traffic info, and weather reports keep the listeners informed about Chesterfield, and North Derbyshire, while in nightime and on weekends the news section is expanded with more national and world news.
Peak FM builds its playlist focusing on the current mainstream hits, varied with the last 15 years bests, and some nostalgic glimpse 40 years back.
Peak FM raises the volume in the mornings by the "Peak FM Breakfast with Ricky and Becky" where Becky Measures and Ricky Durkin control the potmeter on weekdays from 6am to 10am.
On Sundays, from 4pm to 7pm "The Total Access Top 40" chart show, led by Olivia Jones is broadcasted, with the hottest 40 songs.

Peak FM music genre: pop

Peak FM availability: You can tune in your traditional analogue radio on 102.0 FM and 107.4 FM in North Derbyshire, and Peak FM can be followed by its online radio stream.

Peak FM 's slogan: "The Best Music Mix"
Contacts






















































Peak FM comment box
This box is not read by the Radio's staff! So if You would like to ask for a song, or to send a word to the radio presenter, try the
Facebook Box
or
one of the contacts!
News about Peak FM
Olivia Jones replaces Elliot Holman on Total Access
The Total Access evening show, which airs across local radio stations owned by Wireless, is getting a new host as Olivia Jones takes over from Elliot Holman... Wireless' Group Programme Director for Local Radio, Terry Underhill told RadioToday: "Elliot has done a fantastic job building Total Access to record high audience levels and we are delighted that he's accepted our offer to take over the mid-morning show on Signal 1. Olivia is the perfect person to take over Total Access. Her energy, enthusiasm and talent will shine in our newly refreshed network evening show."...
More >>
radiotoday.co.uk - 30.01.2019
Wireless creates its own weekly Top 40 show
Local radio stations owned by Wireless are to broadcast a new weekly Top 40 chart show each Sunday afternoon from 4pm till 7pm. The Total Access Top 40 will be hosted by Olivia Jones and available on nine stations – Signal 1, Signal 107, Wish FM, Pulse 1, Peak FM, Tower FM, Wire FM, Radio Wave and The Wave. The chart will be compiled from airplay, downloads and sales in the UK and sponsored by The Sun.
More >>
radiotoday.co.uk - 20.12.2018
Have You liked our Facebook page yet?
Recommended Radios