Original 106 - Original 106 FM - Original 106 LIVE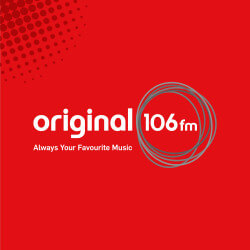 About Original 106
Contacts - Phone number, SMS, E-mail, Facebook etc.
Aberdeen

-

106.8

FM
Aberdeen North

-

106.3

FM
Aberdeenshire

-

106.8

FM
Peterhead

-

106.3

FM
The broadcast is available on the traditional analogue radio way in Aberdeenshire, and also on the digital solutions like DAB Digital Radio, we recommend the online radio stream.
Original 106 Frequency map
More radios
Original 106 comment box
This box is not read by the radio's staff! So, if you would like to ask for a song, or send a word to the radio presenter, try one of the
contacts
!
News about Original 106
Claire Kinnaird and Pete McIntosh to host Original 106 Breakfast
Aberdeen's Original 106 has announced a new breakfast line-up from Monday. Claire Kinnaird and Pete McIntosh will be heading up the new show on the east coast station starting Monday 26th June. The move comes as part of a schedule refresh...
More >>
radiotoday.co.uk - 21.06.2023
Original 106 opens new studios with a Royal visit
It's been a busy week at Original 106 this week with new studios, the start of DAB broadcasts and a Royal visit. The Aberdeen station, which was recently bought by publishers DC Thomson, commenced broadcasting from its brand new studios and Marischal Square Aberdeen on Tuesday with Camilla, the Duchess Of Rothesay paying a visit to the new studios. Original 106 went live at 1.06pm, having relocated moving from its previous building in the south of Aberdeen city.
More >>
radiotoday.co.uk - 26.06.2019
DC Thomson buys Original 106 and Kingdom FM
The owner of Dundee's Wave 102 has bought Abderdeen station Original 106 and Fife's Kingdom FM. DC Thomson Media acquired Wave in 2017 and is the owner of newspapers including The Press and Journal and The Courier. Mike Watson, Chief Executive Officer for DC Thomson Media, said: "These acquisitions firmly position us as the largest Scottish-owned radio group. We're excited to have brought these two great stations in to our radio portfolio"...
More >>
radiotoday.co.uk - 21.03.2019

12:40
Cyndi Lauper - Girls Just Want To Have Fun

12:31
Elton John - Kiss The Bride

12:27
Whitney Houston - How Will I Know

12:24
Ed Sheeran - Eyes Closed

12:11
Big Country - In A Big Country

12:07
Coldplay - Something Just Like This

12:04
Dead Or Alive - You Spin Me Round (Like A Record)

11:57
Diana Ross - Chain Reaction

11:49
The Pretenders - Don't Get Me Wrong

11:44
Blondie - Heart Of Glass
Get older playlist
00:00 -
Original Overnight
All The Music You Love all night long. It's an overnight sensation!
04:00 -
Original 106 Early Breakfast
You know the phrase the early bird gets the worm? Well they also get the best non stop tunes too!
06:00 -
Original 106 Breakfast with Claire & Pete
Live from Aberdeen - Claire & Pete wake up the North-East and a chance to play Keep The Heid at 0810!
Live from Aberdeen with All The Music You Love at work plus The Top 10 At 10.
Live from Aberdeen Craig's here every afternoon with chances to win and all the travel news for the North East
Live from Aberdeen, it's the Teuchter Loon in the Granite Toon!
22:00 -
Original 106 Night Time
End your day by relaxing in with Original 106 Night TIme.