Mellow Magic - Mellow Magic Radio - Mellow Magic LIVE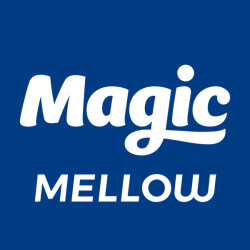 About Mellow Magic
Listen online to the internet radio of Mellow Magic live, which was originally the nightly show of its parent station Magic Radio, but because it has become so popular in London, the broadcaster has decided to launch station with its own musical style and name. The radio is owned by Bauer Radio Ltd., and part of the Planet Radio station fleet. The aspect of Mellow Magic in the playlist is to bring a calm and peaceful atmosphere for the whole day, with slower dynamics and with more melodies in the pop and rock genres. The chronological range of the selection is almost unlimited, with pieces from the 1960s, through the century, to the turn of the millennium. The morning slot is supervised by Fran Godfrey, who brings morning news and soothing tunes between 6am and 9am on weekdays.

Mellow Magic slogan: "Timeless Relaxing Classics"
Do you see incomplete, outdated or incorrect information on our site? Do you think You know more about the radio? Help us, write to us on Facebook and in exchange we'll reward you with advertisement free use! :)
Contacts - Phone number, SMS, E-mail, Facebook etc.
Mellow Magic frequencies
The broadcast is not available on the traditional analogue radio way, but You can listen to it by its online radio stream without territorial restrictions.
More radios
Mellow Magic comment box
This box is not read by the radio's staff! So, if you would like to ask for a song, or send a word to the radio presenter, try one of the
contacts
!
News about Mellow Magic
Do you like this radio? Recommend it to your friends!

06:34
Barry Manilow - Mandy

06:29
Curtis Stigers - You're All That Matters To Me

06:20
The Carpenters - Rainy Days And Mondays

06:17
Lionel Richie - Truly

06:14
The Kinks - Waterloo Sunset

06:11
Norah Jones - Don't Know Why

06:07
Joan Armatrading - Love And Affection

06:03
Tina Turner - What's Love Got To Do With It

05:52
Roberta Flack - The First Time Ever I Saw Your Face

05:48
Gloria Estefan and Miami Sound Machine - Anything For You
Get older playlist
01:00 -
Mellow Through the Night
Relax and unwind through the night with more of the songs you love from Mellow Magic.
06:00 -
Mellow Breakfast with Fran Godfrey
Wake up with Fran every weekday morning, as she gets your day started with morning news and soothing songs selected to ease you into the day.
09:00 -
Mellow Mornings with Jim Davis
Grab yourself a cuppa and spend your mornings with Jim Davis as he presents his selection of timeless classics to get you started for the day.
12:00 -
Mellow Afternoons with Arlene Stuart
It's time to unwind! Join Arlene every lunchtime, as she plays wonderful vintage and relaxing classics from Frank Sinatra to Barbra Streisand.
16:00 -
Mellow Early Evenings with Paul Hayes
Let your early evening fly by as Paul Hayes presents his selection of timeless relaxing classics that will get you through the day.
19:00 -
Mellow Evenings with Lynn Parsons
Come on in and join Lynn as she plays three hours of timeless relaxing classics. Unwind into your evening with songs from The Bee Gees & Whitney Houston to Abba & George Michael
22:00 -
Mellow Evenings with Miri Green
Relax on your weekday evenings with Miri, playing timeless relaxing classics from Nina Simone to Paul Young and Elton John.