Heart Extra LIVE - Heart Extra Radio LIVE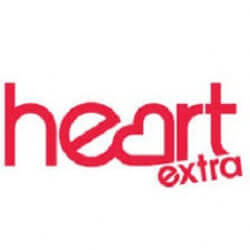 About Heart Extra
Heart Extra ended its broadcast on 12.03.2020. - Heart's other sister stations can be listened to on this page!
Listen online to the internet radio of Heart Extra live here, on UK Radio Live!
Heart Extra is the sister station of Heart Radio, which is the most popular commercial radio station network in the UK. Heart Extra is part of Heart Brand, which is UK's most popular radio brand in the commercial segment.
Heart Extra is in the ownership of Global Media & Entertainment Ltd., and has 483.000 weekly listeners by its only digital distribution in the UK.
Heart Extra's schedule has partly shared networked programming of Heart FM, so the popular talk-shows of Heart Radio can be listened to on Heart Extra, and also the music genres are very similar, almost the same as its parent station's, but the played songs are different. So Heart Extra can be viewed as Heart FM's adjutant, with expanded service in the style of Heart Radio fairly popular life-centered programme structure, with life affirming talk-shows, and dynamic music selection from the mainstream music, but while Heart FM's playlist time span spreads from the 70's to the present, Heart Extra is concentrating on the current, and the last decade's best mainstream music.
In the mornings' time section, Heart Extra airs its parent station's breakfast shows, so every day of the week, except Saturday, starts with the "Early Breakfast with Jennie Falconer" from 4am to 6am for the early bird, and after that, on weekdays from 6am to 9am the mornings continue with the "Heart Breakfast with Jamie & Emma", when Jamie Theakston and Emma Bunton turn up the feel good. On Saturdays from 6am to 10am a bonus breakfast show takes place from 6am to 10am with Lucy Horobin, and Jason King.
During Christmas Eve Heart Extra becomes "Heart Extra Xmas" regularly with full Christmas format.
You can tune to Heart Extra's parent station Heart FM, and to its sister stations
Heart 90s
,
Heart 80s
, Heart 70s and
Heart Dance
below the player. Here Heart FM's London stream is available only, but
Heart FM
is included as individual radio station with all of its local and national streams here, on UKRadioLive.
Heart Extra music genre: pop
Heart Extra availability: Heart Extra as digitally distributed station is not broadcasted on the traditional analogue radio way, but several digital solutions are optionable, we recommend the online radio stream via the internet.
DAB Digital Radio: Heart Extra (UK)
Heart Extra 's slogan: "Turn Up The Feel Good!"
Contacts






















































Heart Extra comment box
This box is not read by the Radio's staff! So if You would like to ask for a song, or to send a word to the radio presenter, try the
Facebook Box
or
one of the contacts!
News about Heart Extra
Do You like this radio? Recommend it to your friends!
Recommended Radios