Forth 1 - Forth One - Forth One Radio
If the online broadcast of Forth 1 - Forth One 97.3 doesn't start, or lags,
please contact us on the
Contact page
, or try to find the error on the
Troubleshooting page
.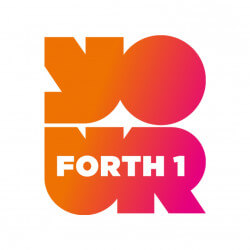 About Forth 1 - Forth One 97.3
Listen to the internet radio of Forth One live, which is owned by Bauer Radio Ltd., and member of the Planet Radio group. The station is located in Edinburgh and broadcasts local programmes to Edinburgh, the Lothians, Fife and Falkirk on FM frequencies. The broadcaster features pop music from the millennium onwards, with a primary focus on the latest hits. As a Scottish radio station, its daytime news bulletins encompass news related to Scotland, including Scottish sports, alongside travel, traffic, and weather reports. To add a refreshing touch to the early hours, Forth 1's morning show, "Boogie in the Morning" with hosts Boogie, Arlene Stuart, and Martyn Ewart, kickstarts the day from Monday to Friday, running between 6 am and 10 am, the Sundays are in Gavin Pearson's command between 6am and 9am. "The Hits UK Chart" is broadcasted from 4pm to 7pm on Sundays, which is Bauer's own chart show led by Sam Thompson, with the hottest 40 songs.

Forth 1 - Forth One 97.3 slogan: "The Biggest Hits - The Biggest Throwbacks"
Do you see incomplete, outdated or incorrect information on our site? Do you think You know more about the radio? Help us, write to us on Facebook and in exchange we'll reward you with advertisement free use! :)
Contacts - Phone number, SMS, E-mail, Facebook etc.
More radios
Forth 1 - Forth One 97.3 comment box
This box is not read by the radio's staff! So, if you would like to ask for a song, or send a word to the radio presenter, try one of the
contacts
!
News about Forth 1 - Forth One 97.3
Recommended radios

13:10
Taylor Swift - Cruel Summer

13:07
Fat Joe ft. Ashanti - What's Luv


12:54
Five - Got The Feelin'

12:51
Nathan Dawe, Joel Corry and Ella Henderson - 0800 Heaven

12:48
Kevin Lyttle - Turn Me On

12:38
Professor Green ft. Emeli Sandé - Read All About It

12:30
Artful Dodger ft. Romina Johnson - Movin' Too Fast

12:23
Hannah Laing and Roro - Good Love

12:19
Justin Timberlake - Rock Your Body
Get older playlist
Jennie has the Biggest Hits, the Biggest Throwbacks through the night
The biggest hits, the biggest throwbacks with Matt Crabb...
06:00 -
Boogie in the Morning
Boogie, Arlene and Marty wake up Edinburgh, the Lothians, Fife & Falkirk.
Greigsy is here with the legendary Throwback mix at 10am!
Grant Thomson is back with the Throwback Takeover at 2pm!
Garry Spence gets you home with the biggest hits, the biggest throwbacks and Spence vs Shazam!
The Biggest Hits, The Biggest Throwbacks with Callum
Amber plays the Biggest Hits, the Biggest Throwbacks