Eagle Radio LIVE - Greatest Hits Radio Surrey & East Hampshire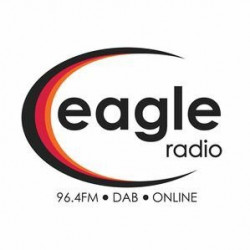 About Eagle Radio
Listen online to the internet radio of Eagle Radio live here, on UK Radio Live!
Eagle Radio's service has been ended on 31.08.2020 in its original form - but continues its operation as Greatest Hits Radio Surrey & East Hampshire, in the ownership of Bauer Radio Ltd.
The description below is about the original Eagle Radio - it will be available for a few months, and later this radio will be removed from the list, but the broadcast will be available on the
Greatest Hits Radio
page!
Eagle Radio started in 1996 as "96.4 The Eagle", in 2007 changed to "96.4 Eagle Radio", and today the "Eagle Radio" name is being used without frequency number. Eagle Radio has 111.000 weekly listeners in the UK, and is in the ownership of UKRD Group Ltd.
Eagle Radio's station is located in Guildford, and its analogue and DAB distributions make it available in Surrey and Hampshire, so Eagle Radio's main mission in broadcasting is to be a trusthworthy supplier of news about Surrey and Hampshire, and to be an artistic value carrier guide in diving into the 80s, 90s and the present most melodic music waves.
Eagle Radio news are mainly local in the daytime's schedule, expanded with travel-traffic info and weather reports, while in nighttime, national and international news are broadcasted.
Eagle Radio lifts every morning with awakening happy-vibes, by The Peter Gordon Breakfast Show on weekdays from 6am to 9am, with Peter Gordon and various adjutant presenters, while the weekends' mornings are revved-up by the Weekend Breakfast show with various presenters on Saturday between 6am and 10am, and on Sunday between 7am and 11am.
Eagle Radio has a digitally distributed sister station Eagle 80s, which follows the guidelines of its parent station, but with decade orientated music playlist.
You can select Eagle 80s below the player.
Eagle Radio music genres: pop, rock
Eagle Radio availability: You can tune in your traditional analogue radio on 96.4 FM in Surrey and Hampshire. Also the digital solutons are available, we recommend the online radio stream.
DAB Digital Radio: Eagle Radio (Surrey&Hampshire)
Eagle Radio 's slogan: "The Station that Loves Surrey and Hampshire"
Do You see incomplete, outdated or incorrect information on our site? Do You think You know more about a radio? Help us, write to us on Facebook and in exchange we grant You advertisement free use of our site! :)
Contacts






















































More radios
Eagle Radio comment box
This box is not read by the Radio's staff! So if You would like to ask for a song, or to send a word to the radio presenter, try the
Facebook Box
or
one of the contacts!
News about Eagle Radio
Eagle Radio to host Radiothon to raise money for charity
Eagle Radio is to host a Radiothon for 12 hours starting on Friday 24th May to help raise money for charity. It will support local charity Phyllis Tuckwell Hospice Care, which this year celebrates its 40th anniversary. The Eagle team have set themselves a target of raising £40,000 to help fund one of Phyllis Tuckwell's nurses, who provide supportive and compassionate end of life care to patients and families across West Surrey and North East Hampshire.
More >>
radiotoday.co.uk - 07.05.2019
Recommended Radios
Alex Lester plays ten songs in a row, no interruptions!
It's The Best Time Of The Day Show with Alex Lester.
06:00 -
Greatest Hits at Breakfast
There's more music when you wake up with Rossie on Greatest Hits Radio.
Pat Sharp is in for Mark with the Top 10 at 10, My Greatest Hit and Lunchtime Anthems.
Debbie plays the biggest songs of the 70s, 80s and 90s.
Darren gets you home with the biggest songs of the 70s, 80s and 90s.
Rick plays the biggest songs of the 70s, 80s and 90s.
Andy Crane plays the biggest songs of the 70s, 80s and 90s.